Shopping Cart
Your Cart is Empty
There was an error with PayPal
Click here to try again
Thank you for your business!
You should be receiving an order confirmation from Paypal shortly.
Exit Shopping Cart
Simone's Airbrush Tanning
be tanned in minutes with no streaks, no odor, no orange tint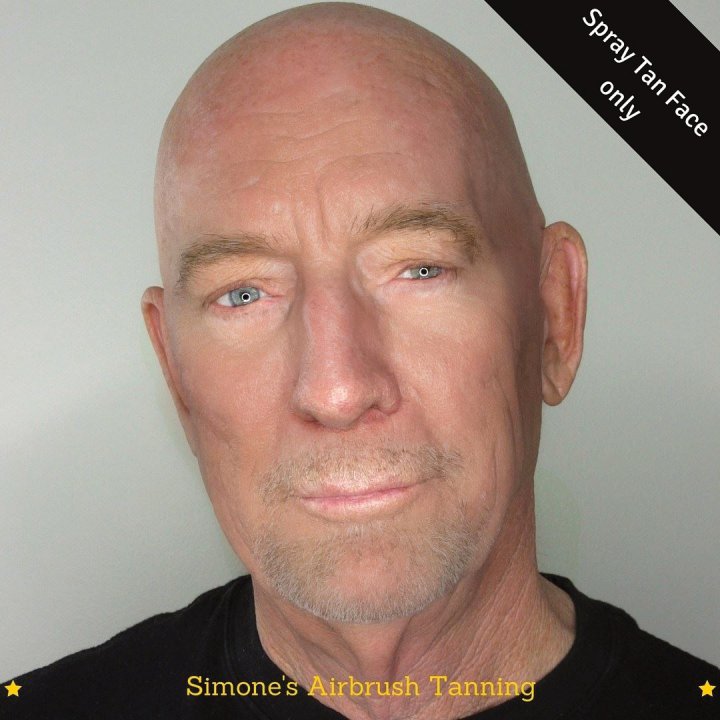 I wanted to showcase a long-term male client of mine who frequently comes to me for a spray tan.  Meet Tom, who is a successful screenwriter, director and producer here in Los Angeles.  He recently won first place in a screen writing contest organized by the Screenwriters Network. You can see more about his work by
clicking here to see his recent screenwriting work
- made into a play.  
Tom came to me a few years ago because he has fair skin and prefers to stay out of the sun.  He wanted to explore airbrush tanning as an alternative to tanning in the sun.  Of course he was worried about turning orange.  He came by for a little spritzer...that's what he calls it because I only spray his face and arms.  He was instantly hooked and could not believe how real a spray tan can look.  He also shared with me that it made him feel confident.  Now, whenever he goes to an important meeting or event, he comes to me to get his spritzer (face and arms spray tan).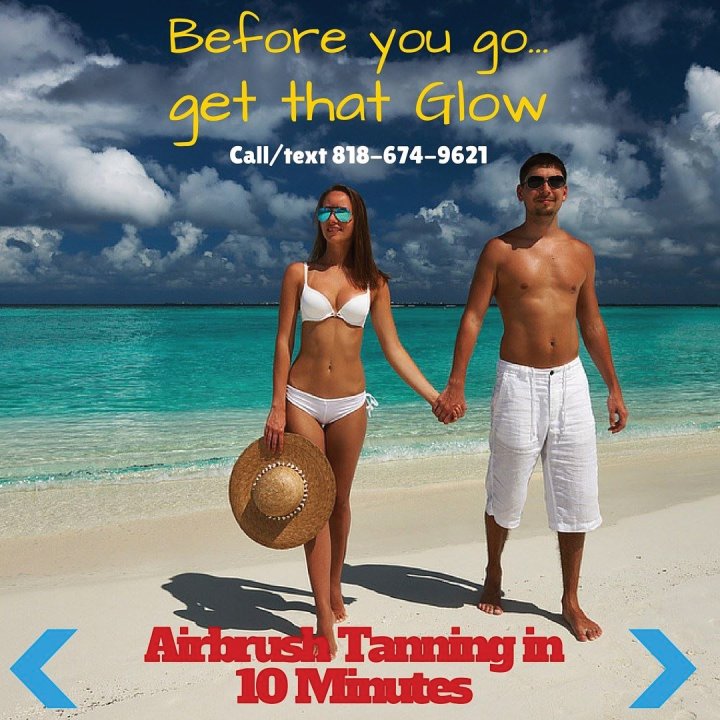 Just like Tom, I have many others who come for a spray tan but many of them do it for different reasons. One of the biggest reason is to do it right before going on a trip or vacation.  Many people don't like to sit outside in the sun and wait for their tan to come. Many woman also don't like to put on a bikini while being pale looking, they feel more confident when they have their tan already and it makes them instantly feel better in that bikini. Plus the fact that a spray tan can hide skin imperfections, and the best part is, that you can still go out into the sun and then the real tan will come in.  Many people don't even notice when their fake tan fades out.  While the fake tan fades out with each shower, the real sun will bring in the real tan. This is why getting a spray tan is so popular before going on a vacation.
I also have many clients who do
spray tanning for special events
such as a birthday party, Bachelorette party, prom, bridal parties or weddings, dance competitions or just going on a date.  It makes everyone look and feel better for that special event.  I feel that a spray tan is the ultimate happy maker :-)
I also have many clients who also do it for no reason at all.  They say it just makes them feel better and they want to have it every week or every other week.  Some of the model clients I have do it every week because they have frequent photo shoots and need to look their best at all times.  
I hope that more men will consider spray tanning to preserve their skin but also to prevent getting skin cancer.  According to the SkinCancer.org website, more men fall short in Skin Cancer knowledge and prevention -
click here to read their article
 and also some tips. 
Airbrush tanning is not just for woman or the younger generations or for models.  Any age generation can do this and look and feel better and preserve their skin and keep the skin healthy.  Remember that your skin is the largest and fastest growing organ in your body.  Our skin is our protective covering and our first barrier to fight illness and disease and a passageway to our bloodstream.   Airbrush tanning can help in preserving your skin and this is why I personally like to use solutions that are actually good for your skin with great anti-aging ingredients.   Airbrush tanning is hear to stay and I'm glad to be part of it.
If you are in Los Angeles, or specifically in the San Fernando Valley area, I welcome you to try my spray tans.  I know you will feel amazed by how real the tan can look and feel.  I have many different brands of solutions available to fit everyone's skin type and skin coloring. Feel free to call or text me at 818-674-9621 to make an appointment.  Feel free to also check out my profile and pictures on
Instagram.com/simonesairbrushtanning
Thank you for reading this and I hope to meet you in the near future.
I found this video on Youtube and wanted to share it with everyone:
In the video below, Dr. Schulz describes that the death rate for Melanoma skin cancer has increased 40%.  He states that in the year of 2010, approximately 9000 will die from Melanoma skin cancer or one person every hour. 
Unfortunately, I still have some good friends that still use tanning beds and abuse sun tanning (even though I do provide some great discounts to my close friends for Airbrush Tanning).  Luckily none of my friends have had any problems yet and I hope it will continue and I will continue to raise awareness about skin cancer.  Melanoma is preventable so please use sun screen and tan responsibly.
/