Shopping Cart
Your Cart is Empty
There was an error with PayPal
Click here to try again
Thank you for your business!
You should be receiving an order confirmation from Paypal shortly.
Exit Shopping Cart
Simone's Airbrush Tanning
be tanned in minutes with no streaks, no odor, no orange tint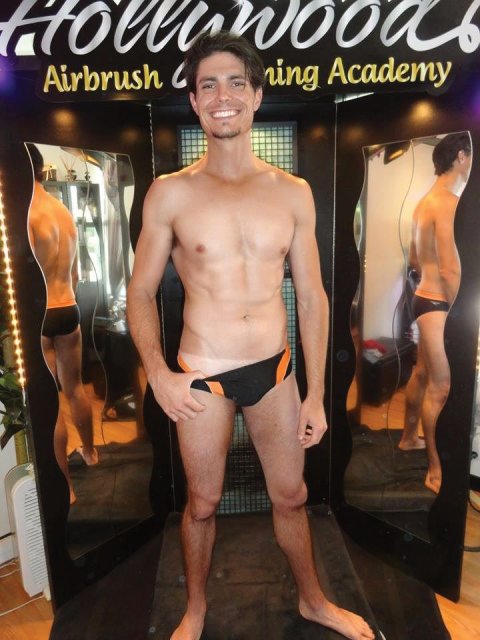 I'm having a Father's Day Spray Tan Special this week until Sunday and wanted to share it on my blog. 
Click here to read my flyer
with the details.
Spray Tans Make a Great Father's Day Gift! Even though men don't always like to acknowledge it, spray tans make them feel and look great as well.  Whenever I spray men they can't believe how real it looks and I always tell them, it's totally ok for men to do it too.  Spray tans are not just for woman, although woman just come back more frequently.  Hopefully this will change in the future. 
If you are reading this blog post and want a spray tan this weekend please feel free to call or text me at (818) 674-9621. 
And if you know anyone who might want to start their own airbrush tanning business, I wanted to share my private spray tanning classes as well.  I teach every weekend and new students come from all over the country.  I am excited to share this great business with whoever wants to learn it.  Feel free to check out my other websites at
http://www.HollywoodAirbrushTanningAcademy.com
and to learn more details about what's included in the spray tanning training program you can also check out
http://www.1DaySprayTanTraining.com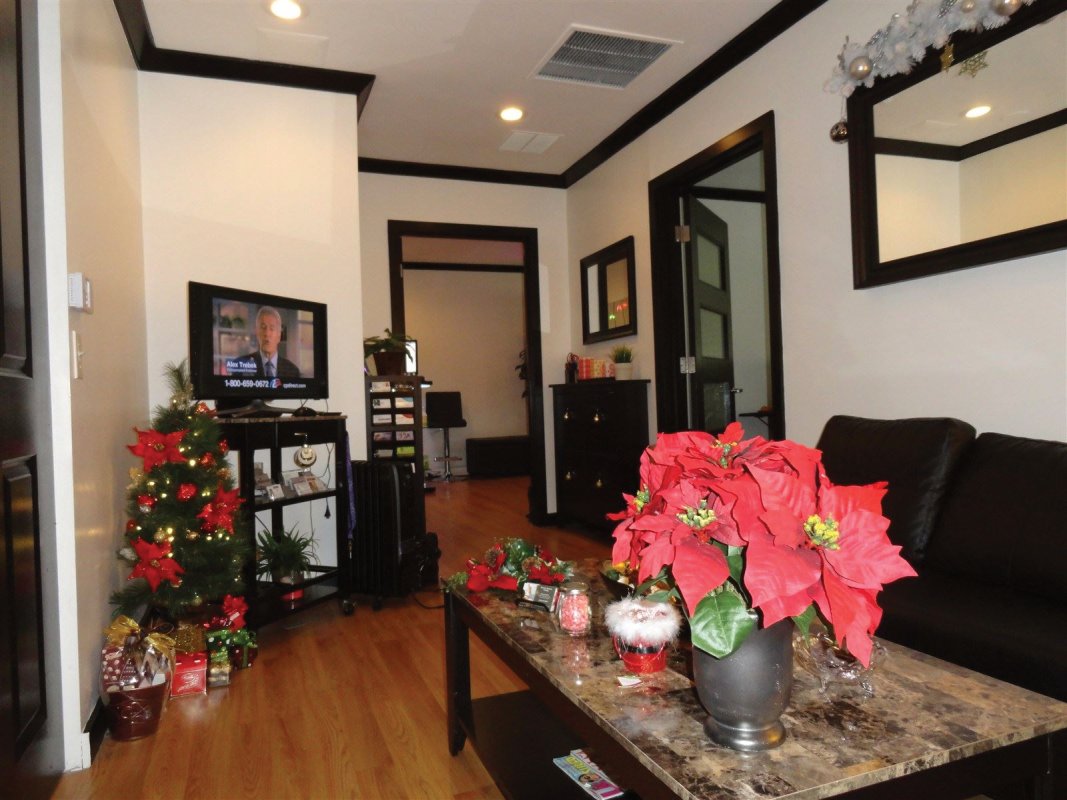 I'm really in a holiday spirit this year and actually have had an opportunity to decorate my airbrush tanning studio.  I can't really decorate my own house because I have 3 playful cats that would tear down my tree in a minute so decided to just decorate my own workspace.  
I will also hold a holiday party on Wednesday, December 18, 2013 from 6 p.m. to 8 p.m. and everyone is welcome to stop by.  I will have some festive holiday snacks, hot cocoa, cocktails and sweets to get you into the holiday spirit.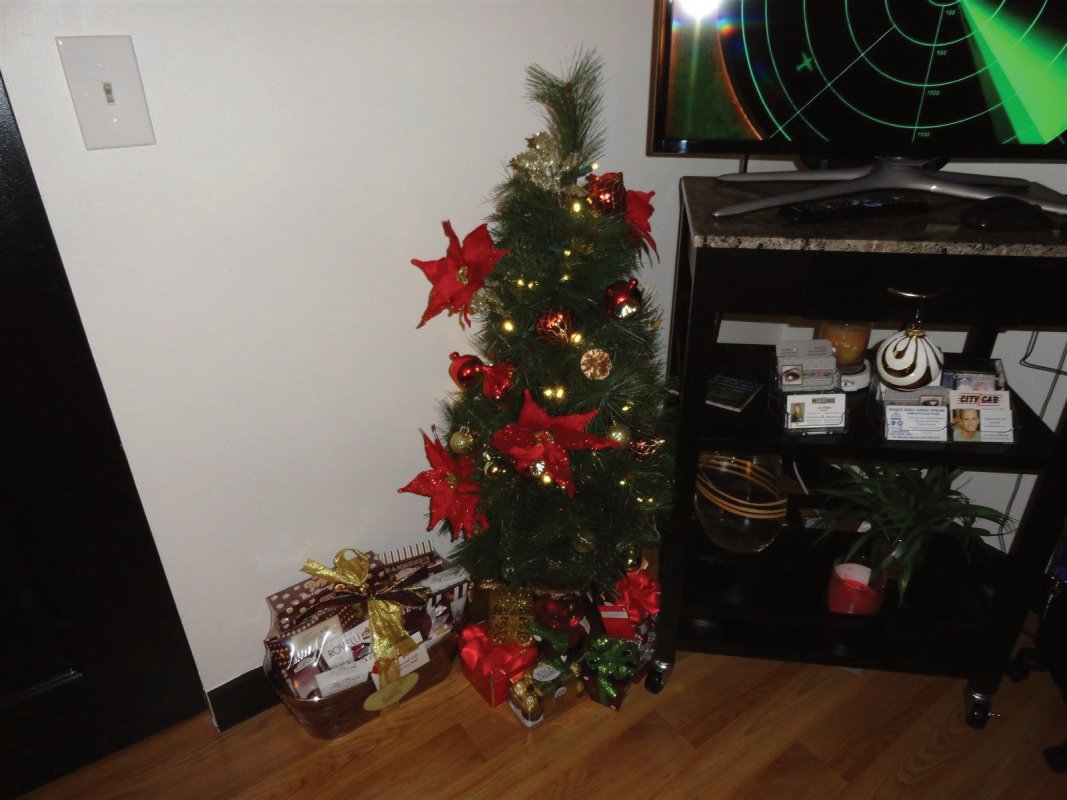 We will also have a drawing for free spray tans, hair tinsels and some of my favorite 18 hour waterproof, kiss-proof Lipsense Lipcolors.
I hope you can join us!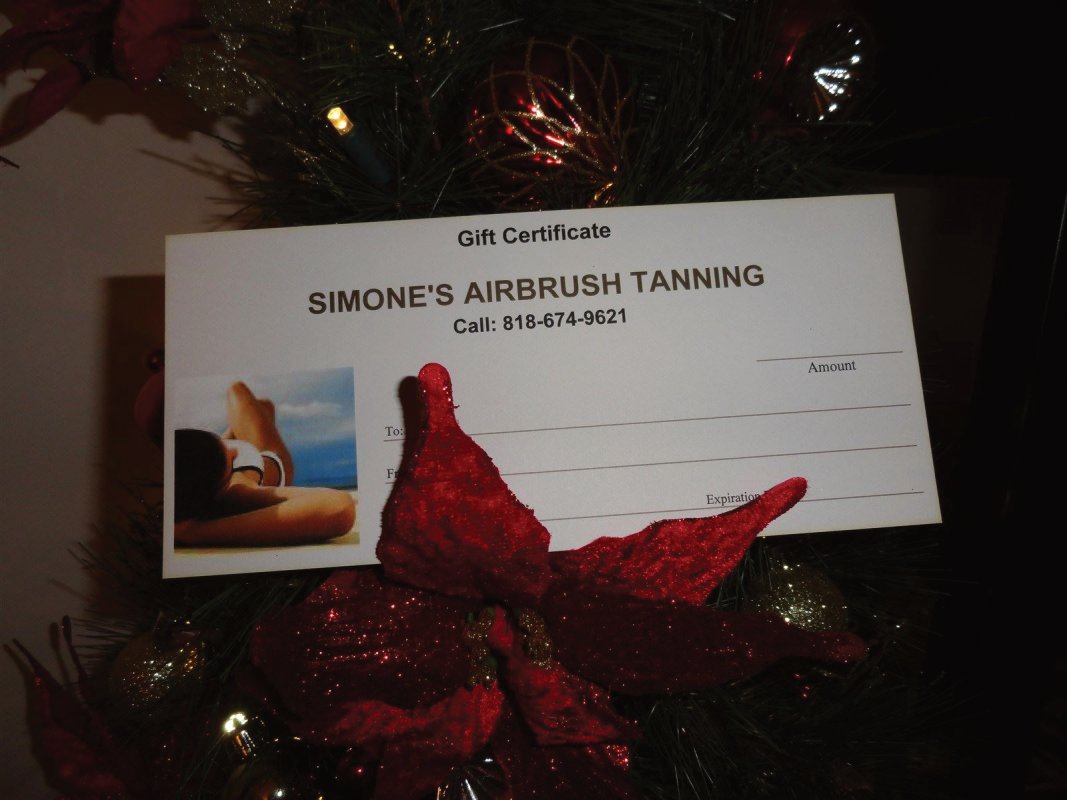 Are you looking for a holiday gift? Spray tans make a perfect holiday gift.  I have gift certificates available.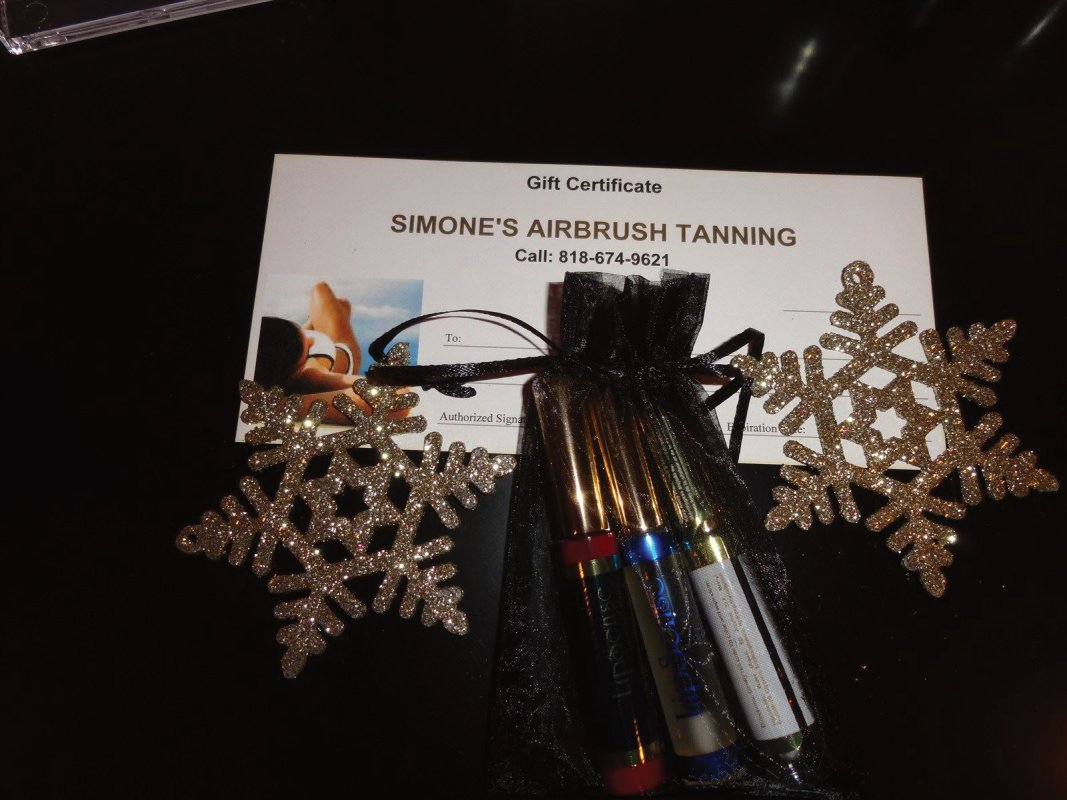 The holiday season is here and many people are probably wondering what they can give their loved ones for Christmas.  Here is my idea for you.  An Airbrush Tan can make a great gift for stocking stuffers.  I also carry Lipsense Lipcolors and have many colors in stock in my airbrush tanning studio in Studio City.  I welcome you to come by to see the colors and test them out before you buy.  However, if you prefer you can buy them online as well by going to
HollywoodLips.net
and it will lead you to an online site where you can purchase directly. 
And don't forget to get your own holiday spray tan for your holiday party this year. I guarantee you that you will feel amazing with my airbrush tans.  I don't know why but there is some kind of magic behind having an airbrush tan and this is why I started my airbrush tanning business years ago cause I wanted to share this experience with as many people as possible. Luckily I live in a city where many people are desiring the magic of an airbrush tan and I am also sharing this with many other entrepreneurs from other cities, states and countries.  
If you want to learn and have your own spray tanning business or know of anyone who wants to
learn airbrush tanning
, I welcome you to check out my
airbrush tanning training
program by visiting my other website at
www.HollywoodAirbrushTanningAcademy.com
.  I started this training program 3 years ago and it's a great accomplishment to have trained so many men and woman in this business.  I'm still in contact with many of my previous students and continuously help them have their own successful business.  
I look forward to sharing the business part as well as the magic of airbrush tanning with many more people in the future.
I wish everyone a wonderful holiday season and please feel free to call or text me to schedule an appointment for an airbrush tan or for my next airbrush tanning class.
Cheers,
Simone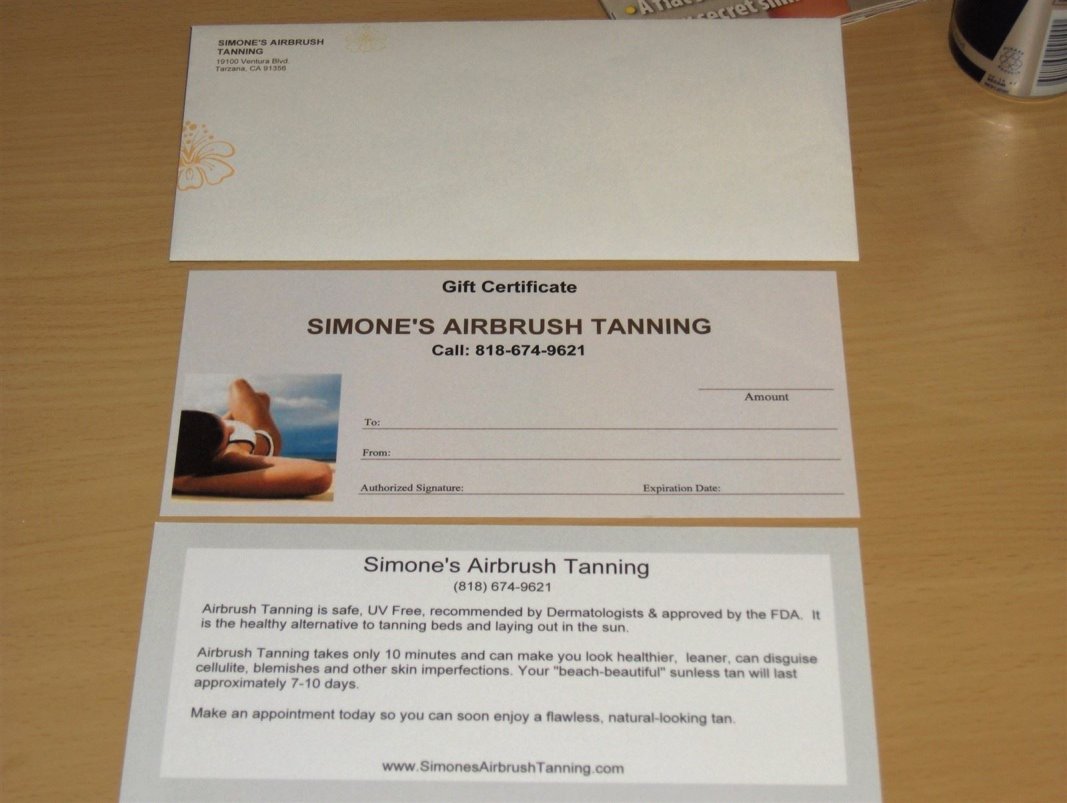 Based on a few recommendations of my clients, I now offer gift certificates that you can purchase for friends or family members.
If you are a man and don't know what to give to the woman you love, you can almost never be wrong giving the gift of a tan.  Every woman wants to look and feel beautiful and not damage her skin in the sun.  Plus it's a big time saver and hides skin imperfections.  Who wants to lay out in the sun for weeks when you can get a tan in only 15 minutes.
I took a picture of the gift certificates.  You can see the front and back including the envelope that comes along with it.  Plus you could also purchase a tan extending cream which will make the tan last for up to 2 weeks. The gift certificates start at $35.00 for a custom spray tan.  Or if you want to offer the celebrity tan solution
Velocity from Vani-T
, which will give a tan in only 2-4 hours, then it will cost only $50.00.  By the way, this solution comes from Australia and conditions the body amazingly.  Velocity has a plant extract in there that is 50 times more then vitamin c. It's also considered a celebrity tan because Jennifer Aniston & Cameron Diaz use this one.  Feel free to try this one the next time you come for a tan.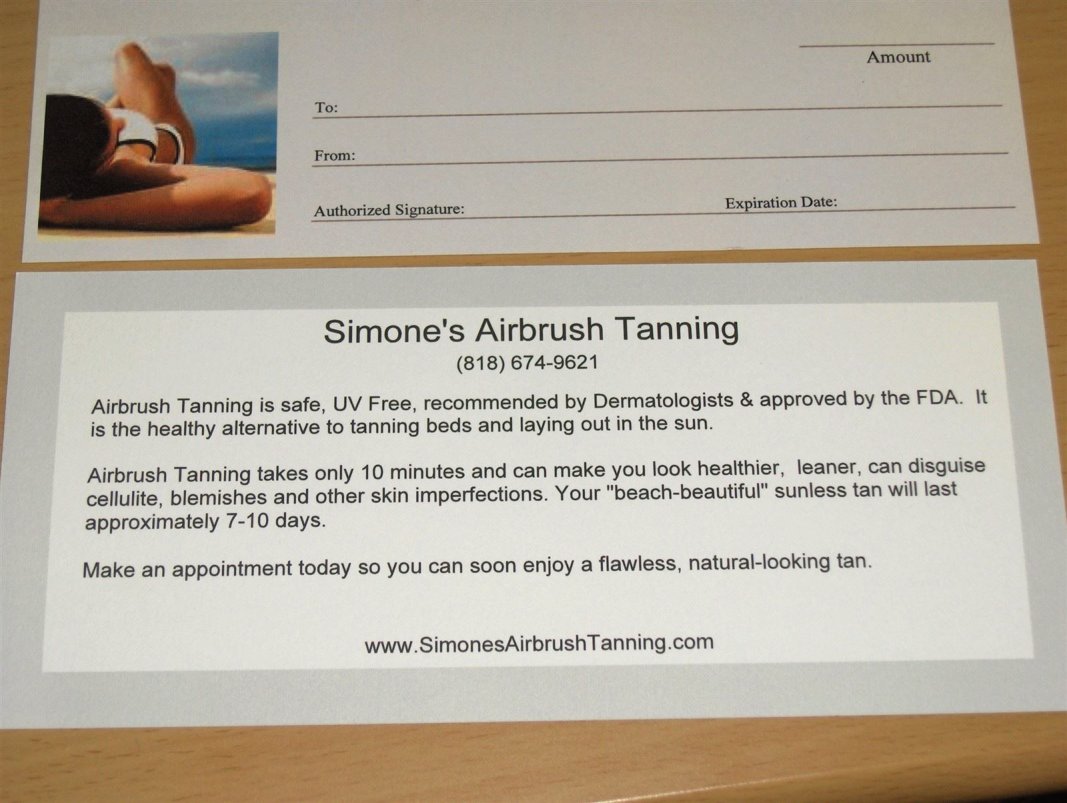 /