Shopping Cart
Your Cart is Empty
There was an error with PayPal
Click here to try again
Thank you for your business!
You should be receiving an order confirmation from Paypal shortly.
Exit Shopping Cart
Simone's Airbrush Tanning
be tanned in minutes with no streaks, no odor, no orange tint
Every year I get many clients who want to have a spray tan before going to the Coachella Festival and also Stagecoach Country Music Festival.  But this year I also had a client who wanted to add some sparkle to her hair.  I made a quick video so I could showcase the results here on my blog.  I almost forgot that I offer hair tinsel services :-)
Here is the video to show you how great and sparkly it can look in blond hair: 
Last weekend I had a wonderful opportunity to apply hair tinsels to many of the girls at a school in Brentwood.  Every year they have the Harvest Festival there and organize many fun activities for the whole family.  I was there with another girls who helped tinseling during this event.  We were told that our booth was the most popular booth during the festival.  I was very happy to see that all the girls loved to have the tinsels in the hair.  I was also suprised that they wanted to have so many different colors in their hair.  Unfortunately I was not allowed to take pictures because they have celebrity children in that school.  I am hoping though that I will be able to get some pictures to show here on my blog.
So if you know of a school that might be interested in having a hair tinseling party, please feel free to contact me for this.  I know if will be a huge success and all the girls are crazy for hair tinsels.  It makes them look and feel like little princesses :-)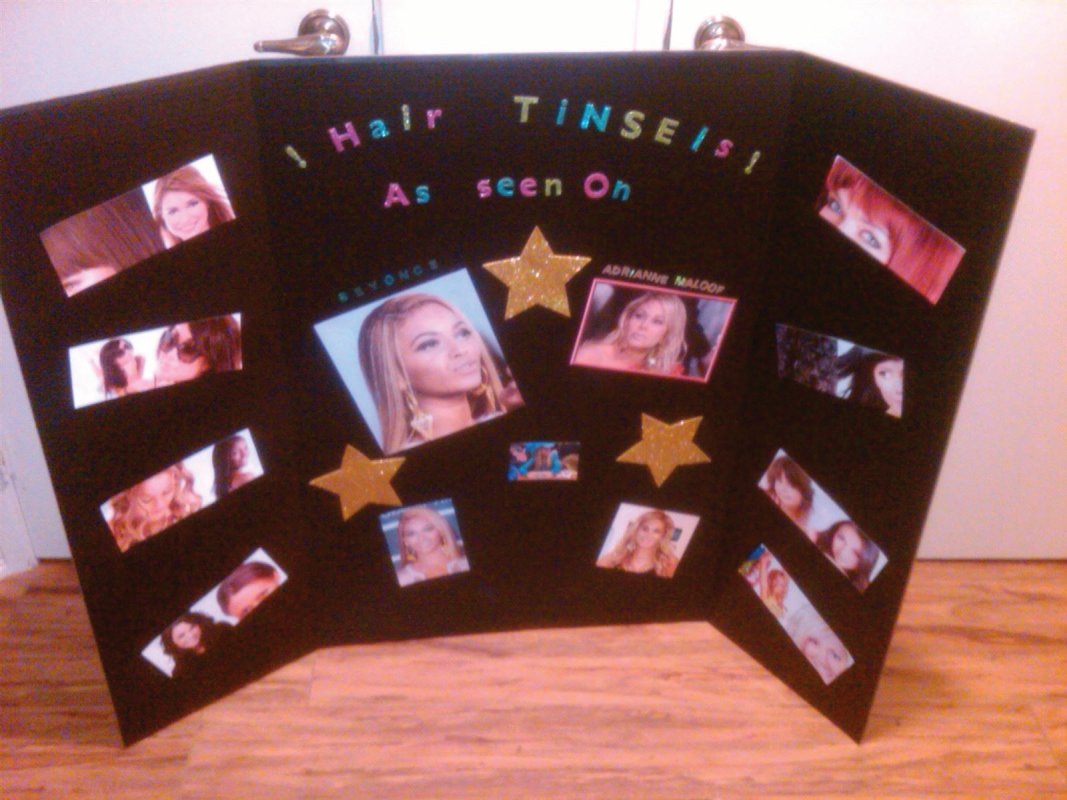 Hair Tinseling parties are also good to have for children birthday parties, barmitzvah's, festivals, costume parties, holiday parties or any other special event. 
Please feel free to call me for price quotes because it will depend on how many people will be at your event.  I also have 9 other girls trained so we can definately do big events or parties.  You can call me at (818) 674-9621.
I look forward to hearing from you :-)
Today I was honored to have a friend visit me because she wanted to have some hair tinsels in her hair.  She has dark brown  hair but with a bit of a red tint so I added some golden copper tone hair tinsels into her hair.  It looked so good and she already texted me, telling me that people are asking her what it is in her hair.  She is already receiving many compliments about her hair. 
These tinsels can be handled the same way as your own hair. They are very thin and act like your own hair.  I use a special knot to add them to your hair and you can wash your hair, condition your hair as well as use a curling iron to do the same thing as with your natural hair.  They can last up to 2 month or if you wish to have them for a shorter period I can make them looser so they don't stay as long.
I took some pictures of some of the colors that I have available below so you can see that I have a variety of colors for almost every hair color. 
If you are interested in getting a bit of a wild look for Halloween, please feel free to call me at (818) 674-9621.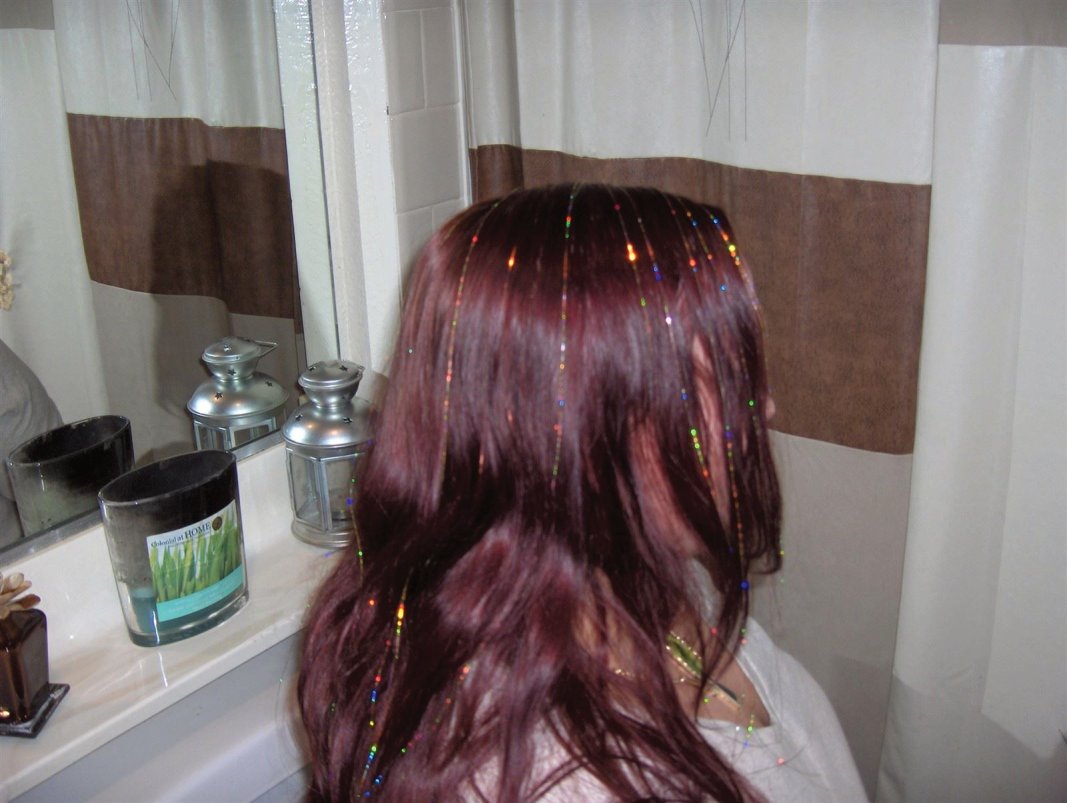 Today, one of my clients took advantage of my combination special to get an Airbrush Tan with hair tinsels.  She started with only 5 strands in her hair but then the next day she came back for more.
I'm telling you this is so addicting - just like Airbrush Tanning :-)
They are so sparkly and look really nice in the hair.  Most of my clients who added the tinsels to their hair were blond and finally I have someone with red hair.  She decided to get the gold color in her hair.  I had recommended to her to get the copper gold into her hair but she decided for the gold color.  I was really surpised because it actually looked really good in the red hair. And in the light it was so amazingly sparkly.  It looked so good.
Here are a few close up pictures so you can see how sparkly it looks in red hair: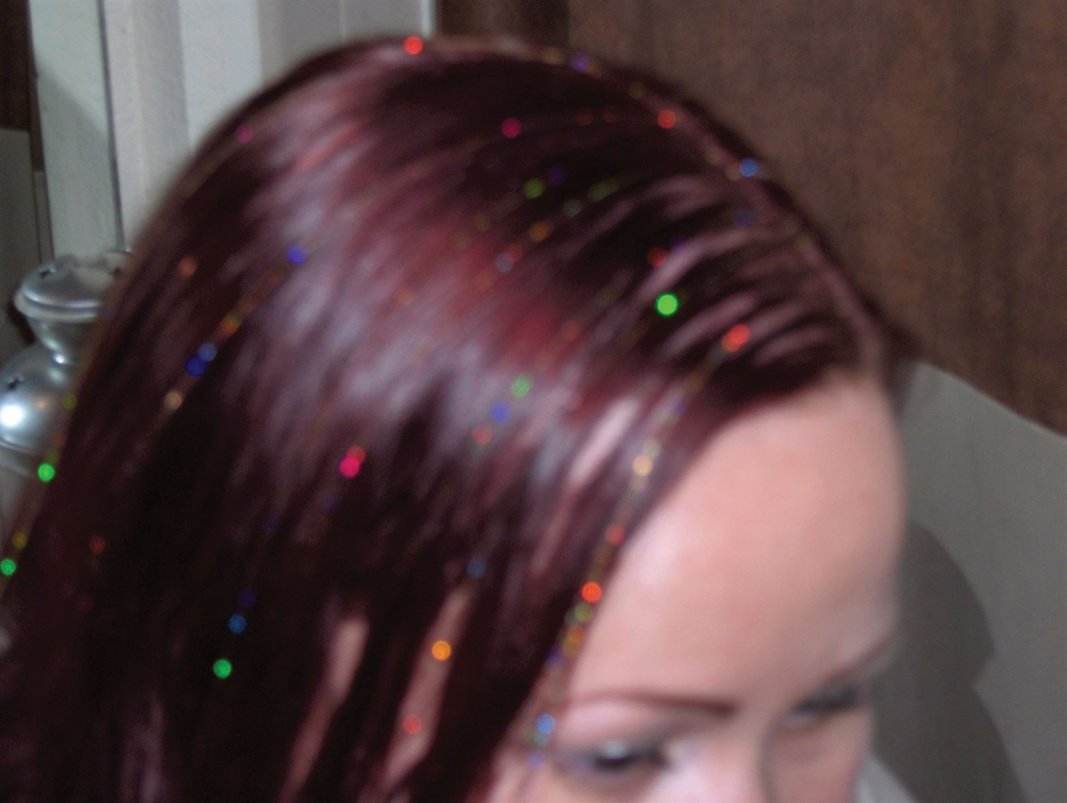 I have all kinds of colors here - gold, silver, red, blue, green, black and so many more colors.
Hair tinsels are great to add for the following events:
bachelorette parties
proms and formal dances
cheerleading or sports events
wedding and bridal parties
going to nightclubs
vacations
for a hot date :-)
You are definately making a fashion statement.
The tinsels stay usually in for about 2 month or more and you can curl them or style them and wash them as usual.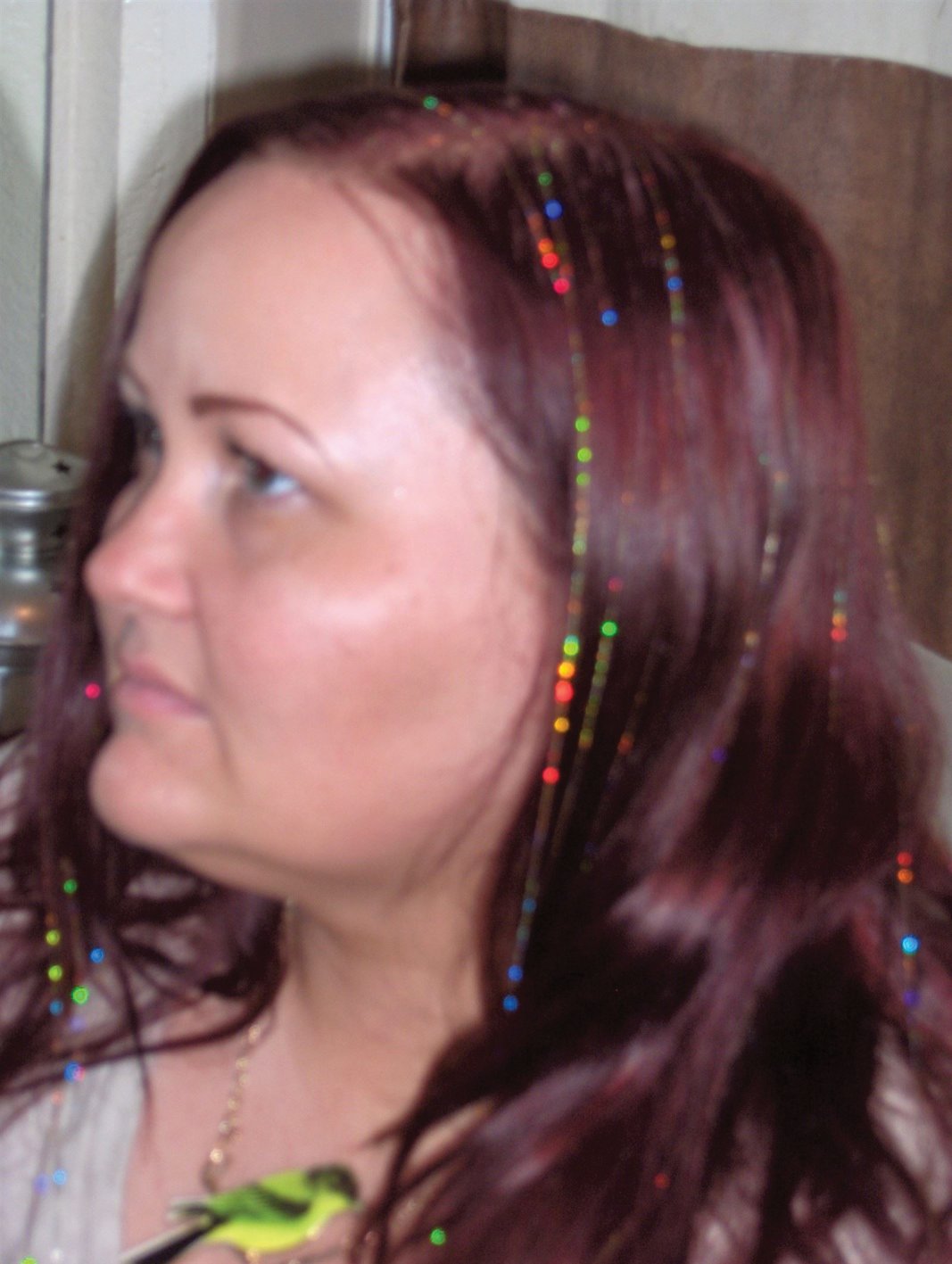 I hope you will decide to call me for the Airbrush Tan and/or the hair tinsels soon.  I look forward to hearing from you.
Thank you Megan for allowing me to take pictures and allowing me to add it to my blog :-)
I also have it my own hair and always get many compliments - it definately gets noticed and people always ask what they are.  Below are some pictures of one of my client.  I will take more pictures from other clients soon.
The hair tinsels come in different colors and some colors have added sparkle or come in normal shimmer.  You can decide whatever color you want.  On my client here I used a light sparkle gold and a dark sparkle gold mixed. 
The best thing is that you can style your hair, wash it, curl it and the hair tinsels will adjust to whatever you do.  You can even use a curling iron.  If you want to see how it looks in my hair, feel free to come by for a spray tan and we can talk more about it.  It usually only takes me 30 minutes to put in 12-24 strands into your hair. 
And here is also a video that I took of my own hair - hope it is visable - I took the video myself :
/