Shopping Cart
Your Cart is Empty
There was an error with PayPal
Click here to try again
Thank you for your business!
You should be receiving an order confirmation from Paypal shortly.
Exit Shopping Cart
Simone's Airbrush Tanning
be tanned in minutes with no streaks, no odor, no orange tint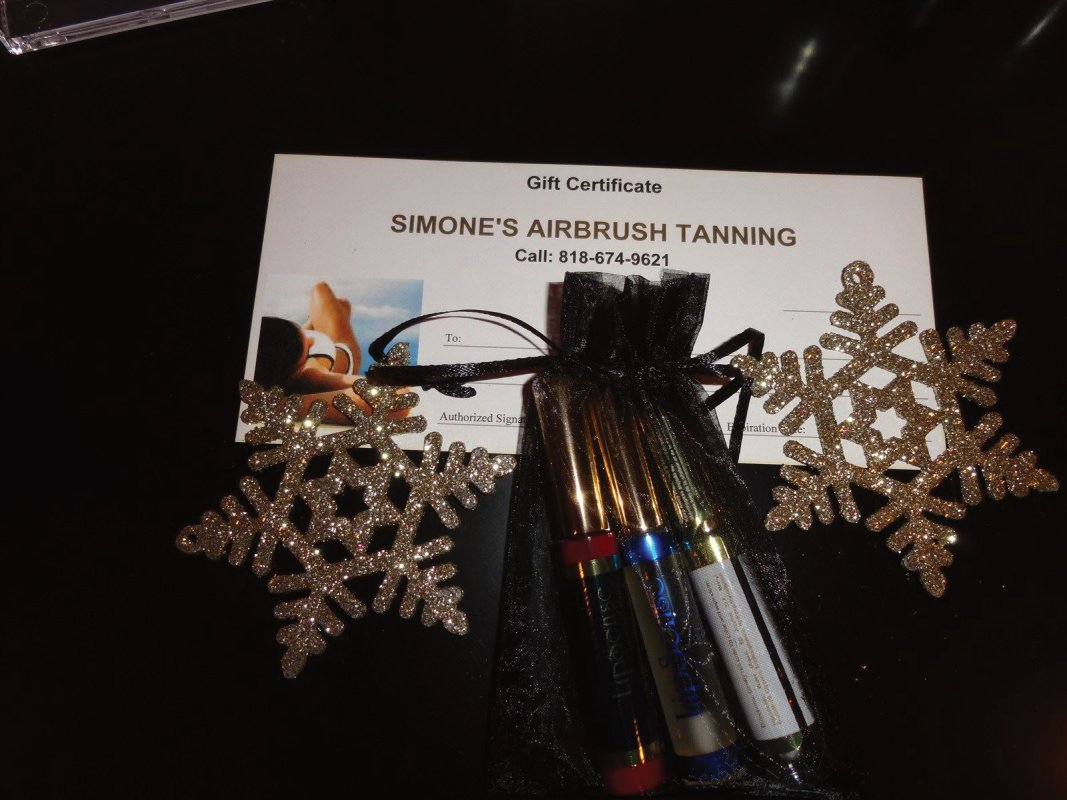 The holiday season is here and many people are probably wondering what they can give their loved ones for Christmas.  Here is my idea for you.  An Airbrush Tan can make a great gift for stocking stuffers.  I also carry Lipsense Lipcolors and have many colors in stock in my airbrush tanning studio in Studio City.  I welcome you to come by to see the colors and test them out before you buy.  However, if you prefer you can buy them online as well by going to
HollywoodLips.net
and it will lead you to an online site where you can purchase directly. 
And don't forget to get your own holiday spray tan for your holiday party this year. I guarantee you that you will feel amazing with my airbrush tans.  I don't know why but there is some kind of magic behind having an airbrush tan and this is why I started my airbrush tanning business years ago cause I wanted to share this experience with as many people as possible. Luckily I live in a city where many people are desiring the magic of an airbrush tan and I am also sharing this with many other entrepreneurs from other cities, states and countries.  
If you want to learn and have your own spray tanning business or know of anyone who wants to
learn airbrush tanning
, I welcome you to check out my
airbrush tanning training
program by visiting my other website at
www.HollywoodAirbrushTanningAcademy.com
.  I started this training program 3 years ago and it's a great accomplishment to have trained so many men and woman in this business.  I'm still in contact with many of my previous students and continuously help them have their own successful business.  
I look forward to sharing the business part as well as the magic of airbrush tanning with many more people in the future.
I wish everyone a wonderful holiday season and please feel free to call or text me to schedule an appointment for an airbrush tan or for my next airbrush tanning class.
Cheers,
Simone
Tan Ban Law passed in California - no more tanning beds for teens under 18
Have you heard that Jerry Brown signed a new law that will ban anyone under 18 years from using the tanning beds in California?  Well, he just signed a new law on October 9th, 2011, and this law will become effective as of January 1st, 2012.  The state of California will be the first state to adopt this new law but there are other states that are trying to pass it through as well, but have not been successful yet.
You can watch a quick video about the new law announcement on Youtube.com 
by clicking here
I think most teenagers and tanning salon owners will be very unhappy about this so I feel for everyone, but the reason behind the law is good because we will hopefully have lesser skin cancer victims.
Maybe this will be a good opportunity for young adults to check into learning how to do spray tanning, especially since it is one of the most affordable businesses to start and spray tanning can be good for your skin.   I am certainly up to training and creating as many spray tan entrepreneurs as possible :-) It's a great business to be in and I love the business and would love to share it with anyone who wants to learn it. For more information about my spray tan courses, you can visit
http://www.1DaySprayTanTraining.com
or call me directly at (818) 674-9621. 
I'm really excited because within the next 2 weeks I will be training 2 more individuals and helping them get started in the Airbrush Tanning business.  Airbrush tanning is high in demand all over as many people realize that tanning beds and staying out long hours in the sun is so damaging to the skin. Plus the fact that it only takes 10 minutes for you to have a nice golden tan that you can show off to everyone.  Noone will ever know that you have a fake tan on.  
One student will be starting her Airbrush Tanning business in the Simi Valley area and another student will be starting her business in the West Hills area.  I will give more updates on my students once we finished the training.  
If you ever thought about getting in to the Airbrush Tanning industry and don't know where to start, then please feel free to visit my Airbrush Tanning training website at
www.1DaySprayTanTraining.com
and read up on what I offer in my Airbrush Tanning Training Course.  It's not class training, it is a private hands-on training course and I will basically share everything I know and learned in this business.  I will share what works and what does not work and will give you ideas on marketing and how to run your own business. 
Please also feel free to call or email me anytime for any questions. 
A few month ago I decided that I wanted to share the Airbrush Tanning business with others.  I have been working in this business now for several years and love it.  I feel that this is one of the best and most affordable businesses anyone can start.
I started developing a new website offering my private hands-on training.  The website is at
www.1DaySprayTanTraining.com
.  I started working on the site in January 2011 and then got a little busy and was not able to finish the site. I was surpised because one person found my website already.  And then a week later another person called me for the Airbrush Tanning training. 
I am very excited to be able to train 2 individuals.  One person is from Utah and another from Orange County.  I am training them this week so I am very busy coodinating with models right now.  I will post pictures and hopefully some videos here soon. 
Stay tuned.
/