Shopping Cart
Your Cart is Empty
There was an error with PayPal
Click here to try again
Thank you for your business!
You should be receiving an order confirmation from Paypal shortly.
Exit Shopping Cart
Simone's Airbrush Tanning
be tanned in minutes with no streaks, no odor, no orange tint
I've been getting a lot of phone calls about my previous
blog post
on my overspray tanning booth.  I realize that there are not many purchasing options out there, so I hope that my pictures can help others in my industry.  If you have called me before and I did not call you back, I want to apolgize and hope that you don't take it personal.  Unfortunately I don't have much free time to speak to everyone but this is why I write into my blog periodically.  
I had to hire a local contractor to create this booth for me because I was not able to find anything that had strong extraction.  This booth is totally custom made and I don't think anything exist out there that is very strong. You can't see what's behind the booth but there is a lot going on in the back that is hidden from everyone.  I had to do a lot of research on my own to find a powerful industrial fan and then with the help of the contractor we were able to put this booth together.  I needed something strong because of the high volume spraying that I am doing.  There are some companies that are selling overspray tanning booth however they were not strong enough for my condition.  I was diagnosed with Asthma a few years ago and this is why I needed something extremely powerful.  The booth was expensive but it was well worth it because I am protecting my own health.  It does require daily maintenance because the mirrors get dirty and I have to clean the mirrors every day before I go home.  I also clean the filters on a weekly basis and it's a lot of work but part of being in this business.
I have been finding different ways on how to spice up the booth to make it look unique and so I wanted to show the newest pictures here of how it looks now.  I thought I was done decorating the last time, however I continually find more ways on how to make it look better in my spray room.  I actually have some more ideas for down the road :-)  But here is a glance of how it looks now: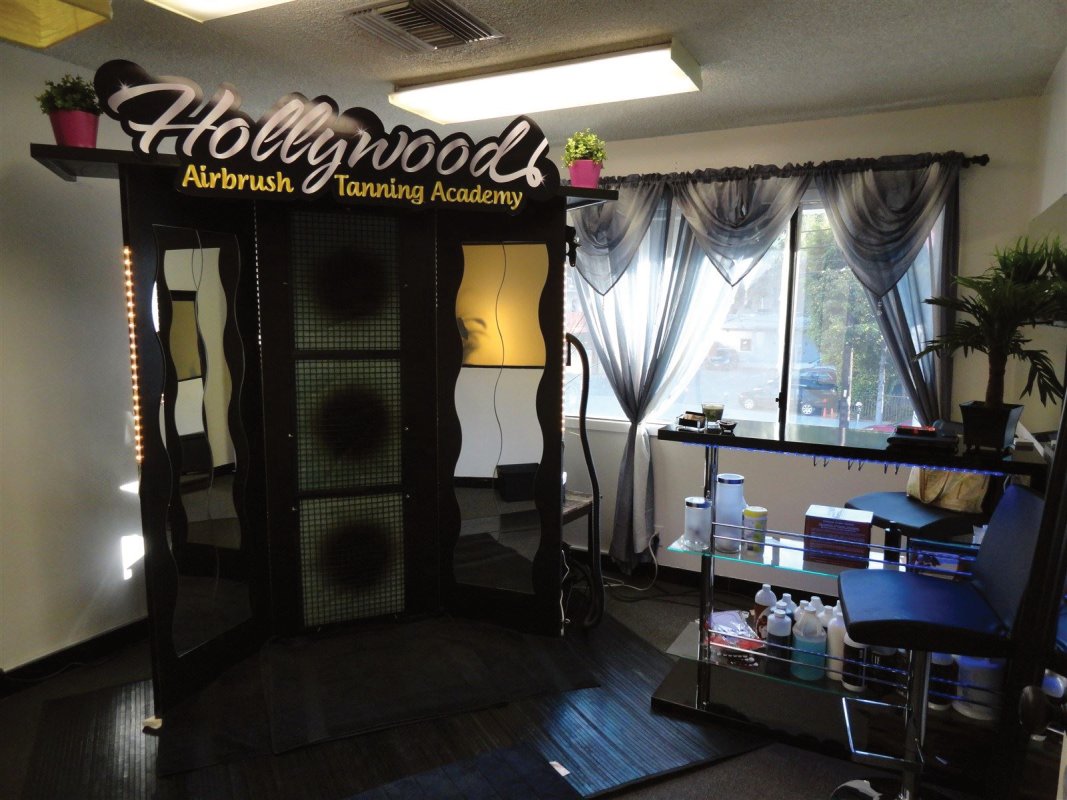 You can click directly on the picture in order to see the picture better or larger.
I added my academy's logo on the top because I had an extra logo available and no wall to place it on so I just added it to the top of the booth.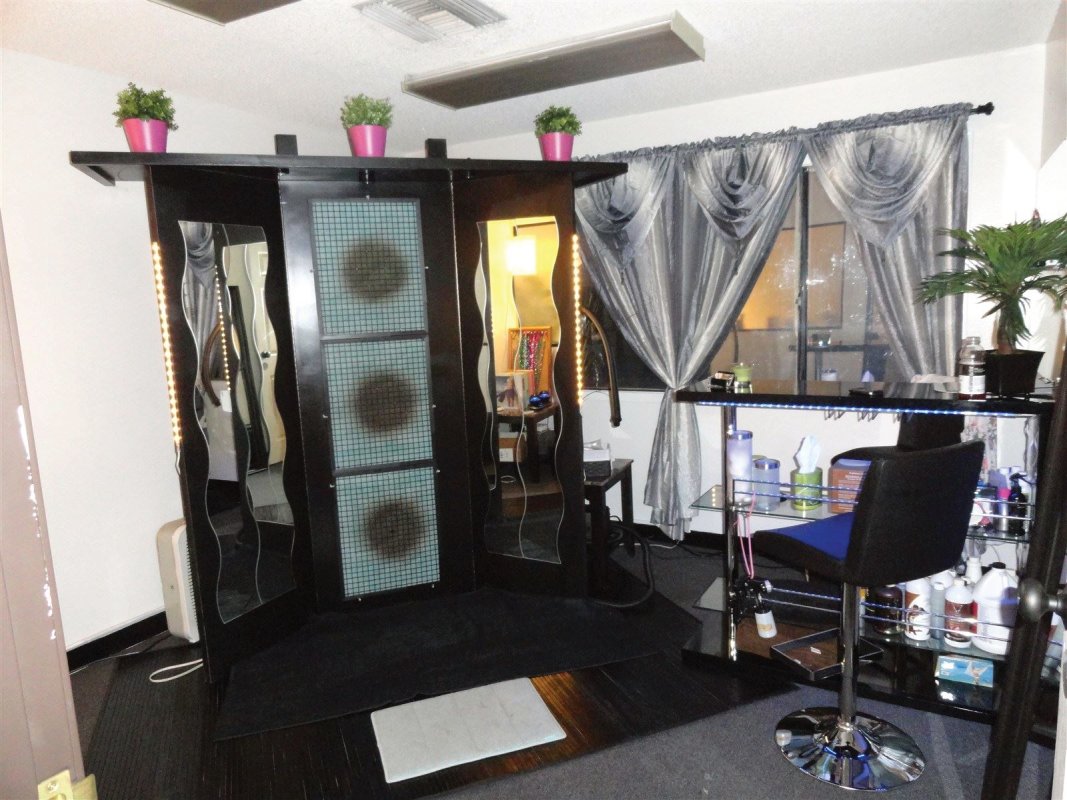 And here is a picture of how the spray booth looked before.  I got some more cool ideas that I will be implementing in the future so stay tuned for some updates in the near future. 
I am really excited because I finally got my overspray booth.  I hired a local contractor to make this specialized booth with a powerful extraction fan.  I wanted to show a picture here so you know what to expect when you come for a spray tan.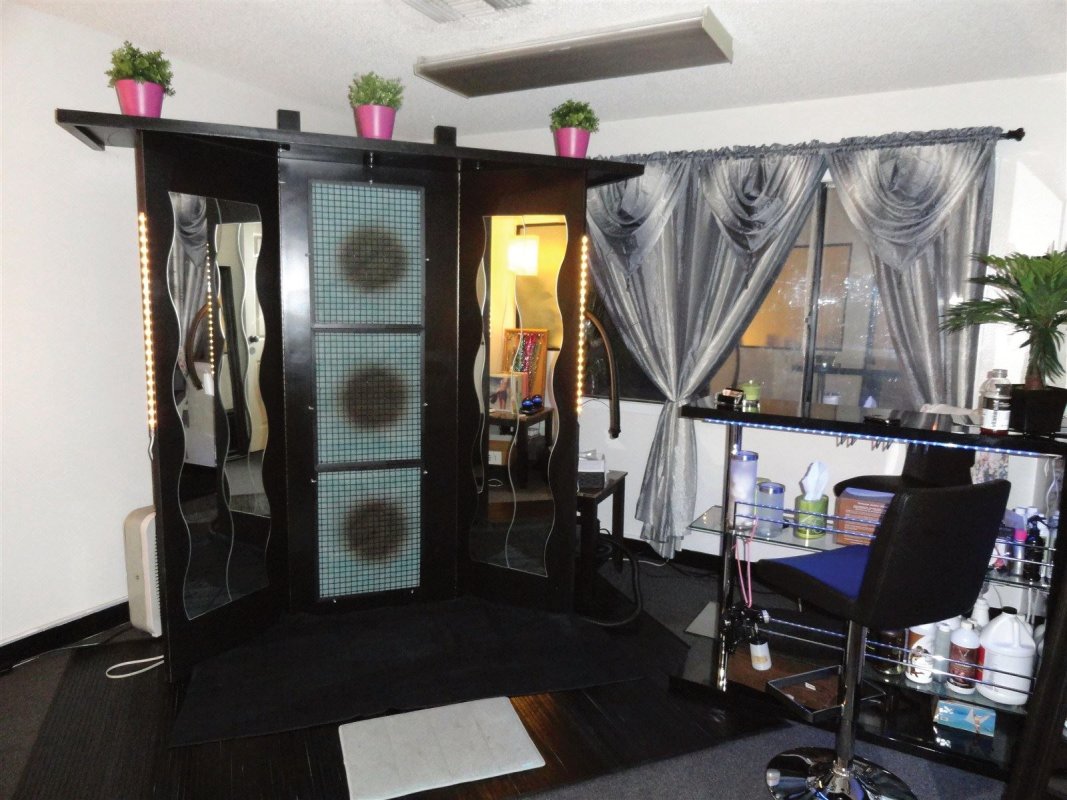 So what does that mean for you?
  It means you don't have to inhale the overspray that is evaporated while I spray tan you.
For me it also makes a big difference because I am most of the day in my spray room and I can now finally breath healthier air.
I also wanted to mention that I always offer nose filters to all my customers as well. 
I hope to see you and tan you real soon.
/