Shopping Cart
Your Cart is Empty
There was an error with PayPal
Click here to try again
Thank you for your business!
You should be receiving an order confirmation from Paypal shortly.
Exit Shopping Cart
Simone's Airbrush Tanning
be tanned in minutes with no streaks, no odor, no orange tint
Many of us have or are addicted to tanning beds or laying out in the sun, including myself. I used to use tanning beds for 5 years when I was younger and I'm so glad I stopped. I'm glad that I discovered airbrush tanning and this is why I wanted to share this great experience with so many people in the world. That's why I started my
airbrush tanning business in Los Angeles
and I also teach this trade to people all over the world through my academy "
Hollywood Airbrush Tanning Academy
".  
Here is a story from another person who was addicted to tanning. Hopefully she will not have any consequences down the road but many people do at the age of 40-60. I have many of those clients who are now constantly having skin issues and skin cancers and I also have several melanoma skin cancer survivors.  They can no longer go out in the sun and refer to airbrush tanning now because that seems to be the safest way to tan these days.  Hopefully they will never find anything negative about airbrush tanning down the road.  So far so good. 
I care a lot about the safety of my clients and myself and this is why I always provide protection to my clients which includes nose filters, chap sticks for the lips, winkease for the eyes and cotton for the ears.  I also have a very powerful spray booth that extracts the overspray so no one has to inhale the solution.  And you will see me wear a mask every time I spray tan.  I practice safety every day and teach this to all my students because I want to make sure that our airbrush tanning industry will keep a good reputation of being the safest way for tanning.  I don't want to risk my clients lungs nor my own lungs and getting lung cancer down the road.  If you are a spray tanning technician reading this, please help by offering safety protection to your clients and wear a mask yourself. Thank you.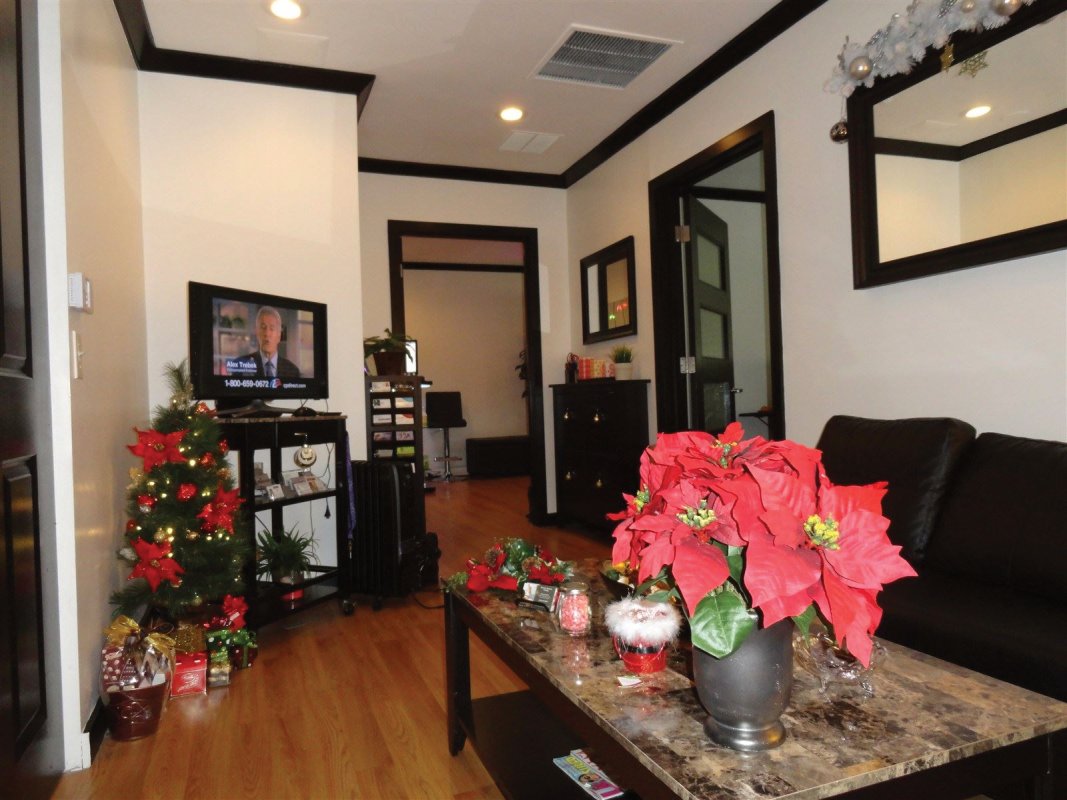 I'm really in a holiday spirit this year and actually have had an opportunity to decorate my airbrush tanning studio.  I can't really decorate my own house because I have 3 playful cats that would tear down my tree in a minute so decided to just decorate my own workspace.  
I will also hold a holiday party on Wednesday, December 18, 2013 from 6 p.m. to 8 p.m. and everyone is welcome to stop by.  I will have some festive holiday snacks, hot cocoa, cocktails and sweets to get you into the holiday spirit.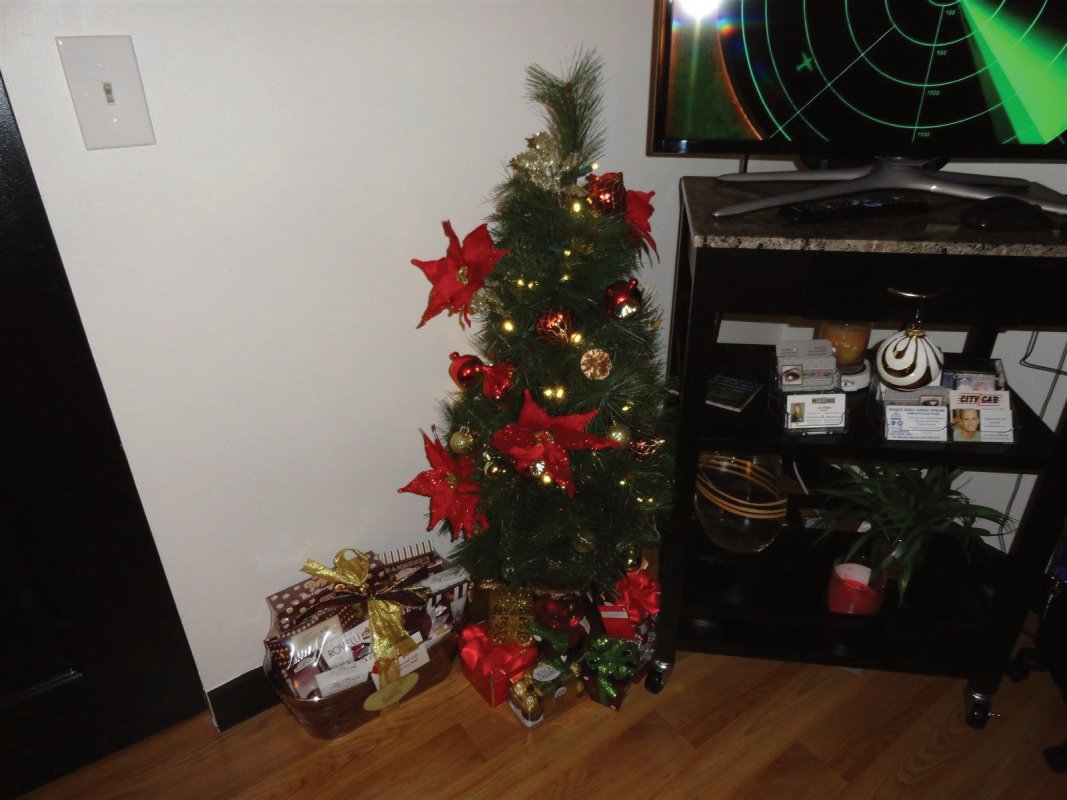 We will also have a drawing for free spray tans, hair tinsels and some of my favorite 18 hour waterproof, kiss-proof Lipsense Lipcolors.
I hope you can join us!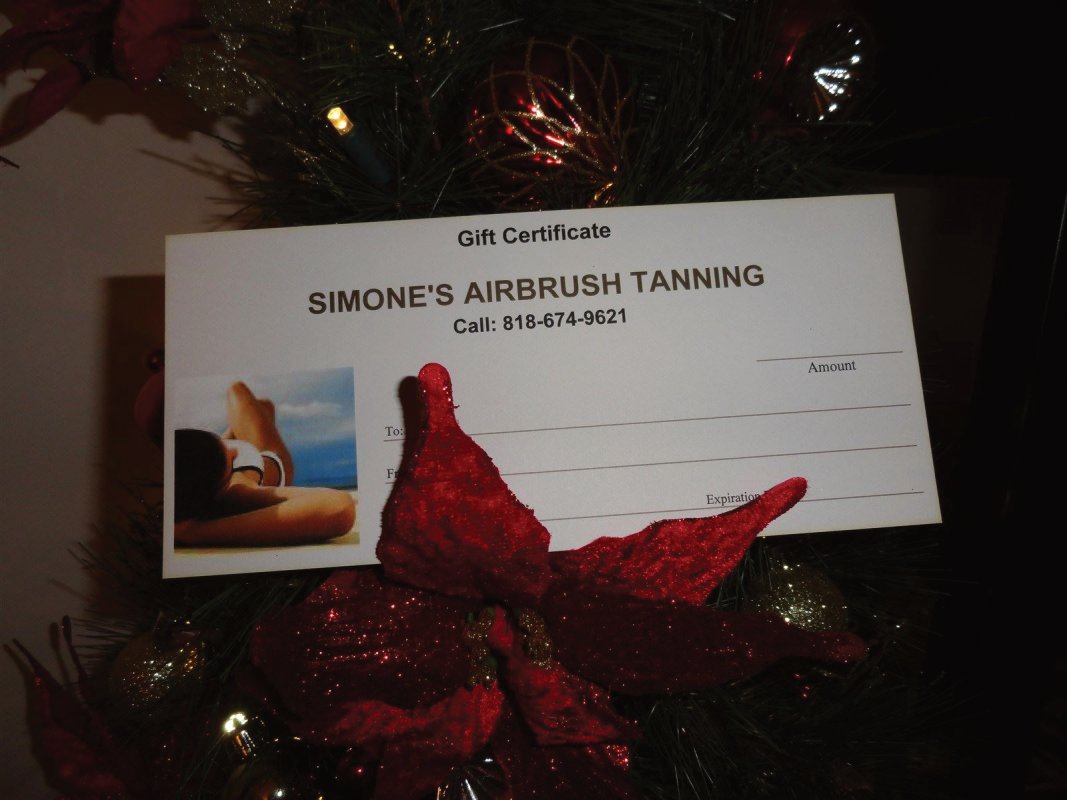 Are you looking for a holiday gift? Spray tans make a perfect holiday gift.  I have gift certificates available.
I've been asked many times about my opinion on Self Tanning Lotions vs. Airbrush Tans.  Years ago when airbrush tanning did not excist, I would have told you that self tanning cream/lotions is the way to go because it was the safer way to get a tan. But now I really strongly believe that Airbrush Tanning is the better way to get a tan.
Before Airbrush Tanning existed I used to always use Sunless tanning lotions.  It was great and at that time my favorite sun tanning lotion was the Bare Mineral Faux Tan brand as it looked really natural and did not have a strong self tanner smell.  I used it frequently and sometimes daily, but I did notice that my skin was getting really dry and I had to use a lot of lotion twice a day (without self tanner) to get the moisture back into my skin.
Then when I learned about Airbrush Tanning I was amazed that it lasted longer then a week on me.  It lasts longer on me because I have extreme white skin.  I can really say that I glow in the dark :-)
Sunless lotions or self tanning lotions and also the solution we use for airbrush tanning contains all DHA and the one negative thing about DHA is that it dry's out your skin and this is why I would recommend airbrush tanning over using self tanning lotions. 
Why?
When you use self tanning lotions on a daily basis you are exposing your skin to the DHA daily which dry's out your skin.  But when you are airbrush tanning, since the airbrush tans lasts for 7-10 days, you only need to come once a week to get a fresh new airbrush tan and your skin is only exposed to the DHA for 1 day.  The rest of the days you are using lotions to revive your skins with moisture. 
I hope that explains why I would always recommend Airbrush Tanning over Self Tanning creams/lotion.  Of couse if you don't have anyone to refer to for Airbrush Tanning, I would definately recommend the self tanning creams over tanning beds.
/