Shopping Cart
Your Cart is Empty
There was an error with PayPal
Click here to try again
Thank you for your business!
You should be receiving an order confirmation from Paypal shortly.
Exit Shopping Cart
Simone's Airbrush Tanning
be tanned in minutes with no streaks, no odor, no orange tint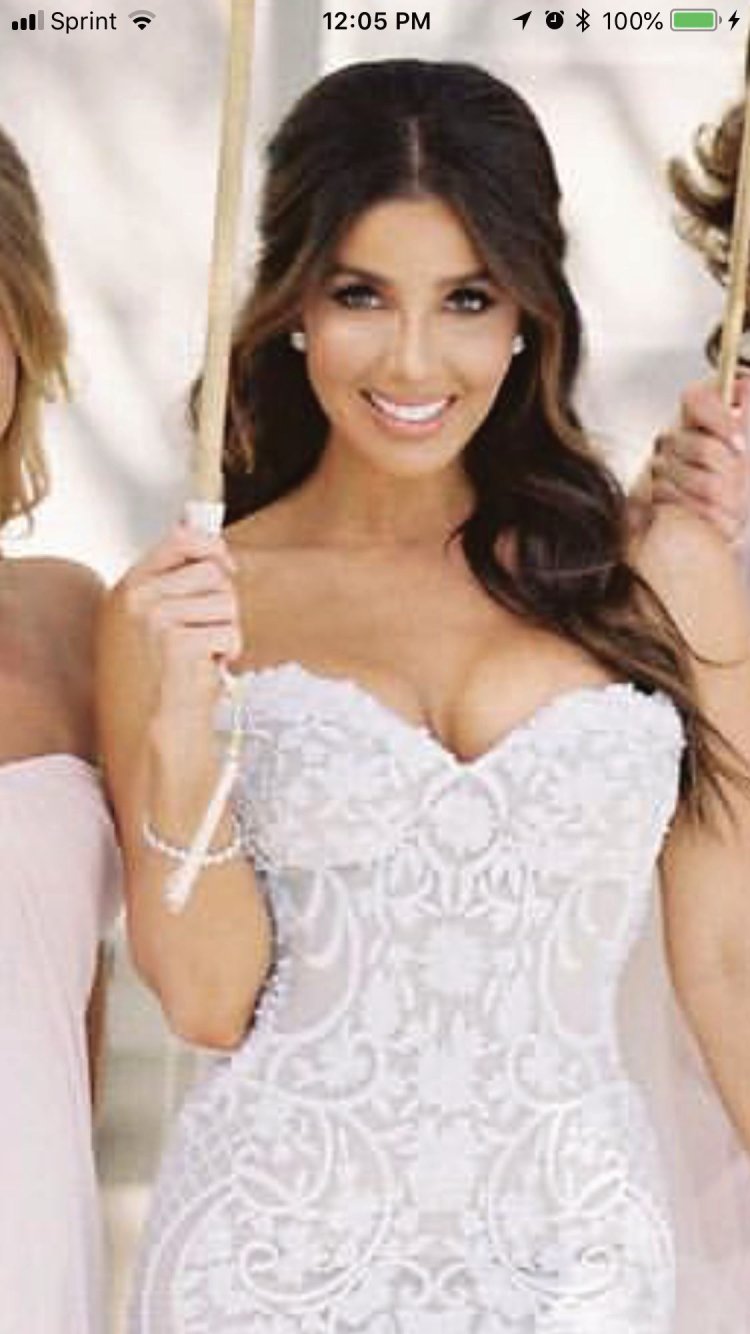 It's wedding season and I wanted to feature a few of the previous brides that I had the privilege of spay tanning for their very important wedding day.
2 years ago, I spray tanned Melissa Molinaro and her husband for their wedding and also for their honeymoon.  She was such a beautiful bride and she also surprised her husband with a special dance which you can see by 
clicking here
The video is amazing and currently has already over 11 million views.  Melissa is 
beautiful and super talented - you will agree once you watch the video on Youtube.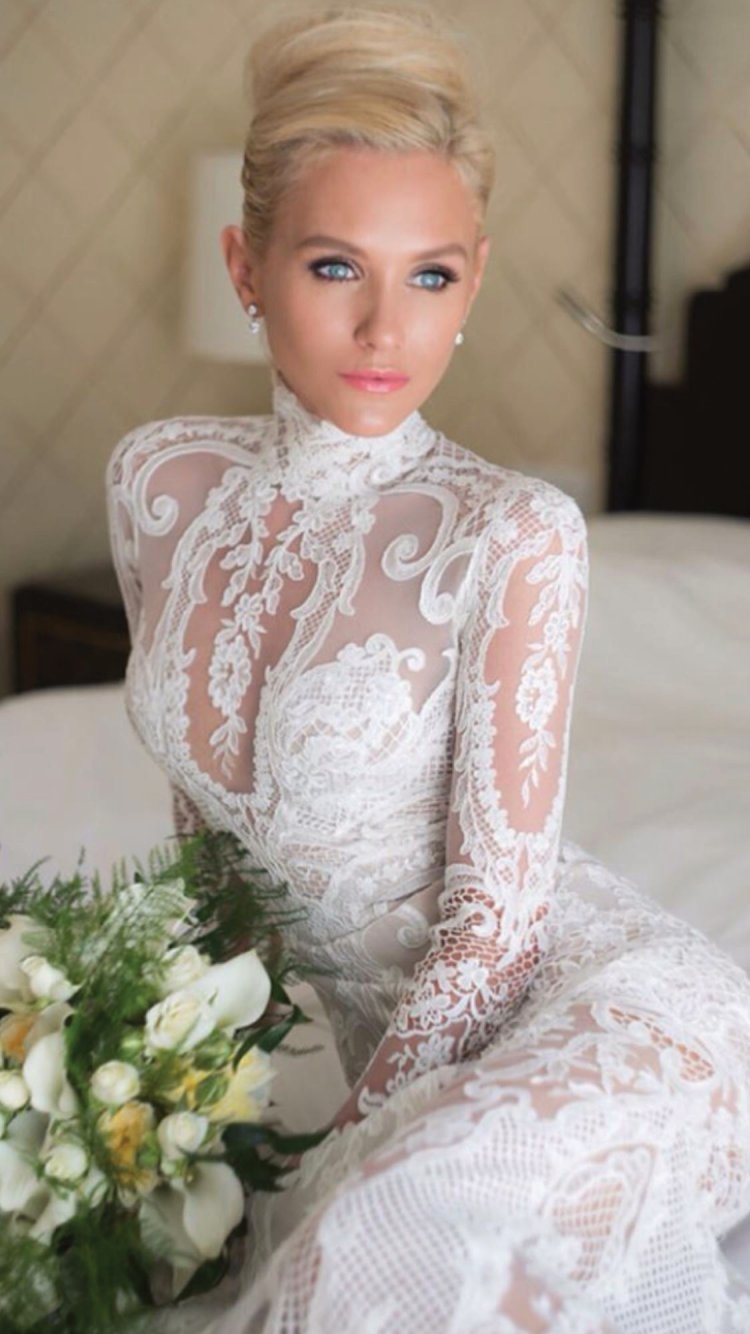 My next client is the beautiful Nicky Whelan, an actress and model from Australia.  Nicky is well known for her role on "Pepper Steiger" in the Australian  television series "Neighbours".  Nicky looked like a beautiful Barbie.  You can read and see more pictures on her wedding by
clicking here
 as it was covered by People's Magazine.
There are so many other brides that I spray tan throughout the year and I'm planning on making a video slide show with all the beautiful pictures of all of them.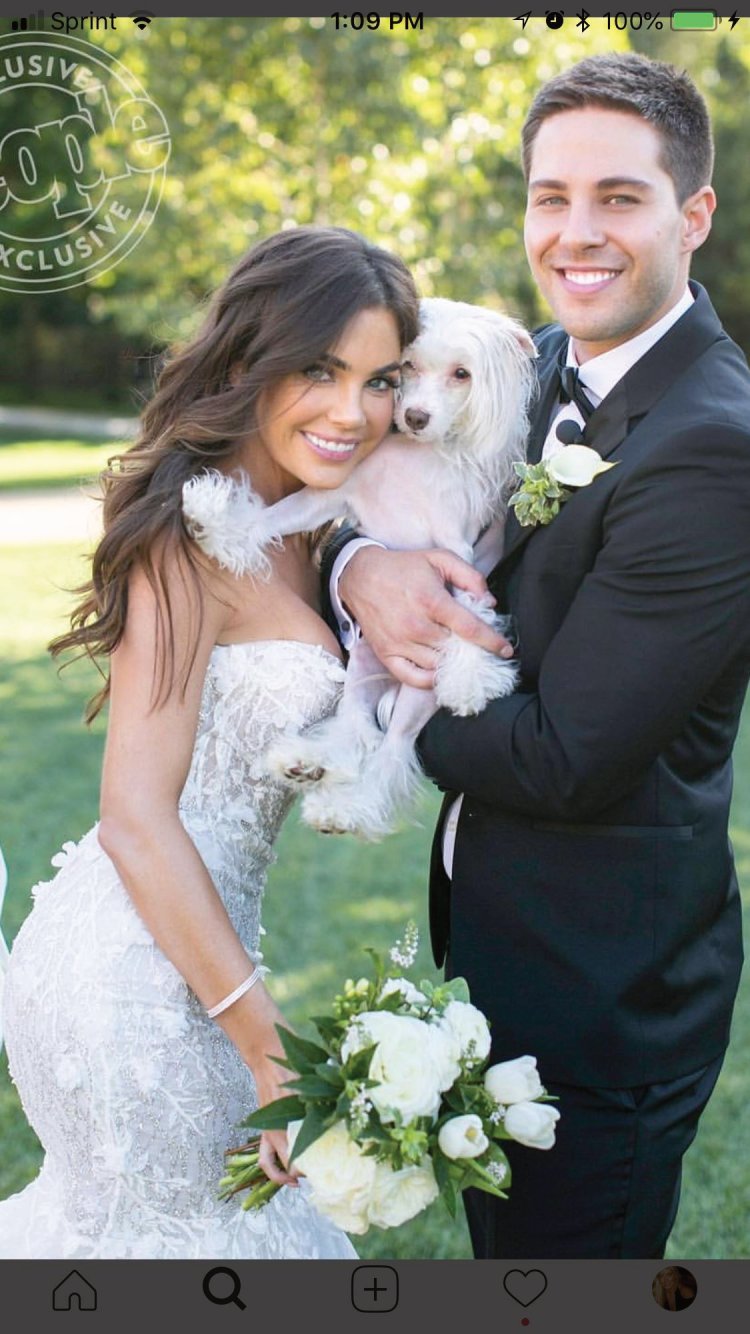 The next picture is of the beautiful Jillian Murray when she got married to her husband Dean Geyer.  You might recognize her from the TV Series "Code Black" and maybe from her recent movie on Lifetime "A Dangerous Date".  They included their sweet dog in the wedding and , being a dog lover myself, I find this so adorable.  You can read more on their wedding and see more pictures by
clicking here
as it was covered in "People's Magazine". 
If you are getting married soon and considering airbrush tanning, feel free to reach out to me to come in and test it out before your actual wedding day (maybe 1 month prior to your wedding).  I'm confident you will really love it and feel like a queen on your special day.  
When you are getting married, I would want you to come in 2 days before your wedding and always after you do all other beauty treatments such as manicure, pedicure, waxing etc.  I do work late hours until 10 p.m. most days so I'm sure we can always find time for you.  I also have one of my graduate working with me so if you want to come with a big group, we will totally get all of you ready.  Discounts are offered for bigger groups so please feel free to inquire by calling or texting 818-674-9621.
I look forward to meeting you and spray tanning you soon.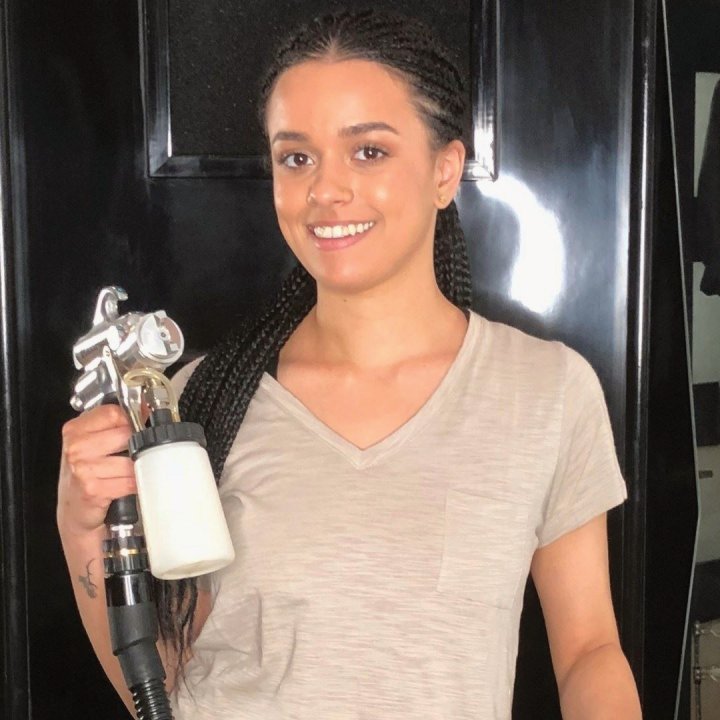 Last year I finally realized that I needed to expand and hire myself a person to help keep up with spray tanning lot's of clients.  I've built out my other room and made it a spray tanning room with a professional spray booth and then I found Celina and hired her.
Meet Celina, a Makeup Artist by trade and now a certified Airbrush Tanning Technician working at the Hollywood Airbrush Tanning Salon.  My location has been made available for my graduates of the Hollywood Airbrush Tanning Academy to be able to work at the salon and also bring their own clients.  Celina went through an extensive training program.  Much longer then any of my other graduates because I'm planning to make her a trainer soon.  Celina will be available to work on Wednesday's, Thursdays's and Friday's.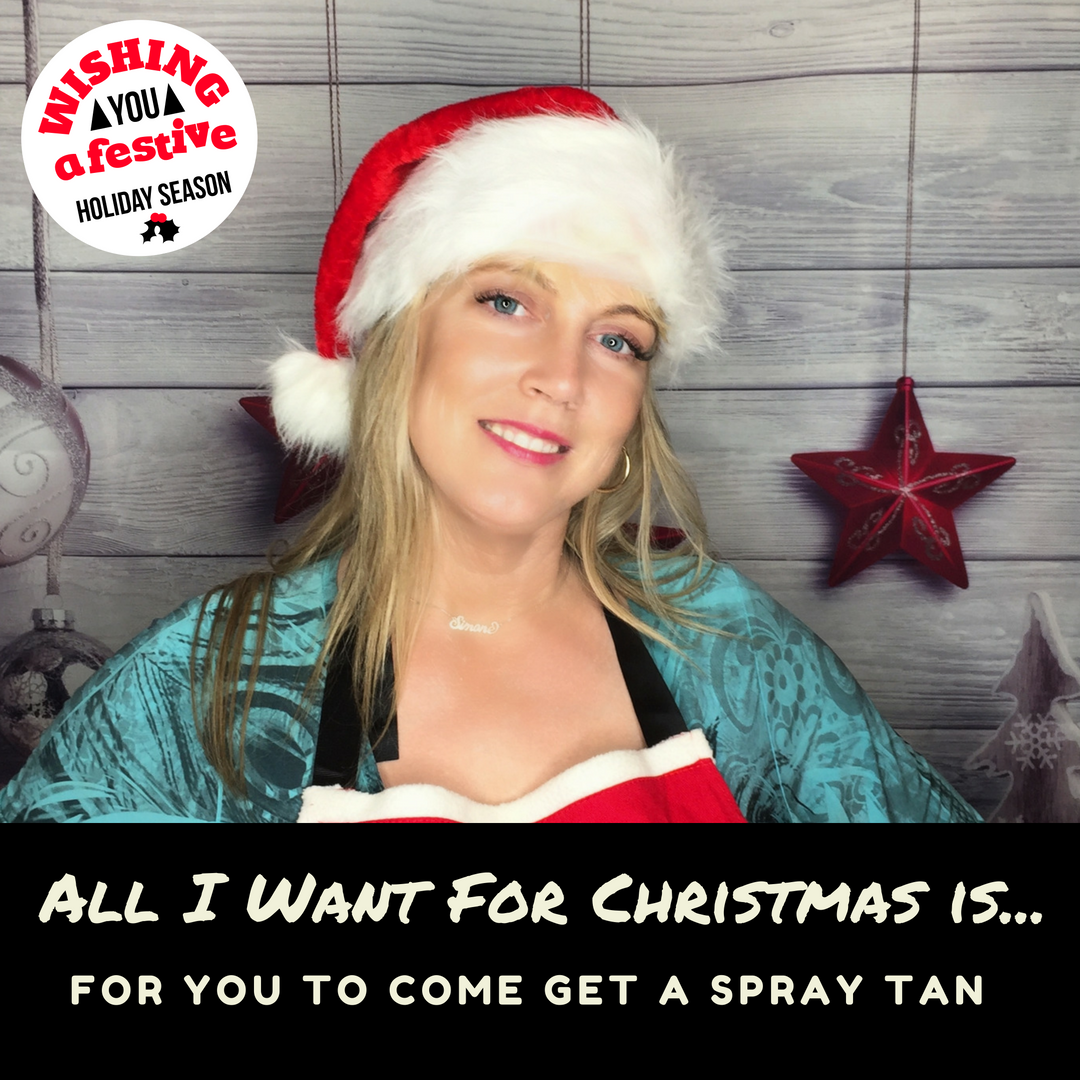 As this year comes to an end, I wanted to express my thankfulness for you visiting me and trusting me with your spray tan. I wish you and your family the happiest of holidays and prosperity throughout the New Year.
If you still need a quick pick-me-up holiday glow before Christmas or New Year, you can reach out to me by calling or texting me at 818-674-9621. As always, I take late appointments to accommodate your working schedule, so feel free to reach out to me even last minute.
Enjoy the holidays and I hope to see you again in the New Year.
Sincerely,
Simone
(818) 674-9621 cell
P.S. This year I am having a little fun by spray tanning clients and then taking them in my other room to take a picture with the Miss Santa outfit and holiday background. Come get your own tan and let me take a picture of you so you can send it to your friends and family members for Christmas. I provide free pictures and touch-up with my professional photography software to make sure you look your best.
Here are some of the clients that got their tan and pictures: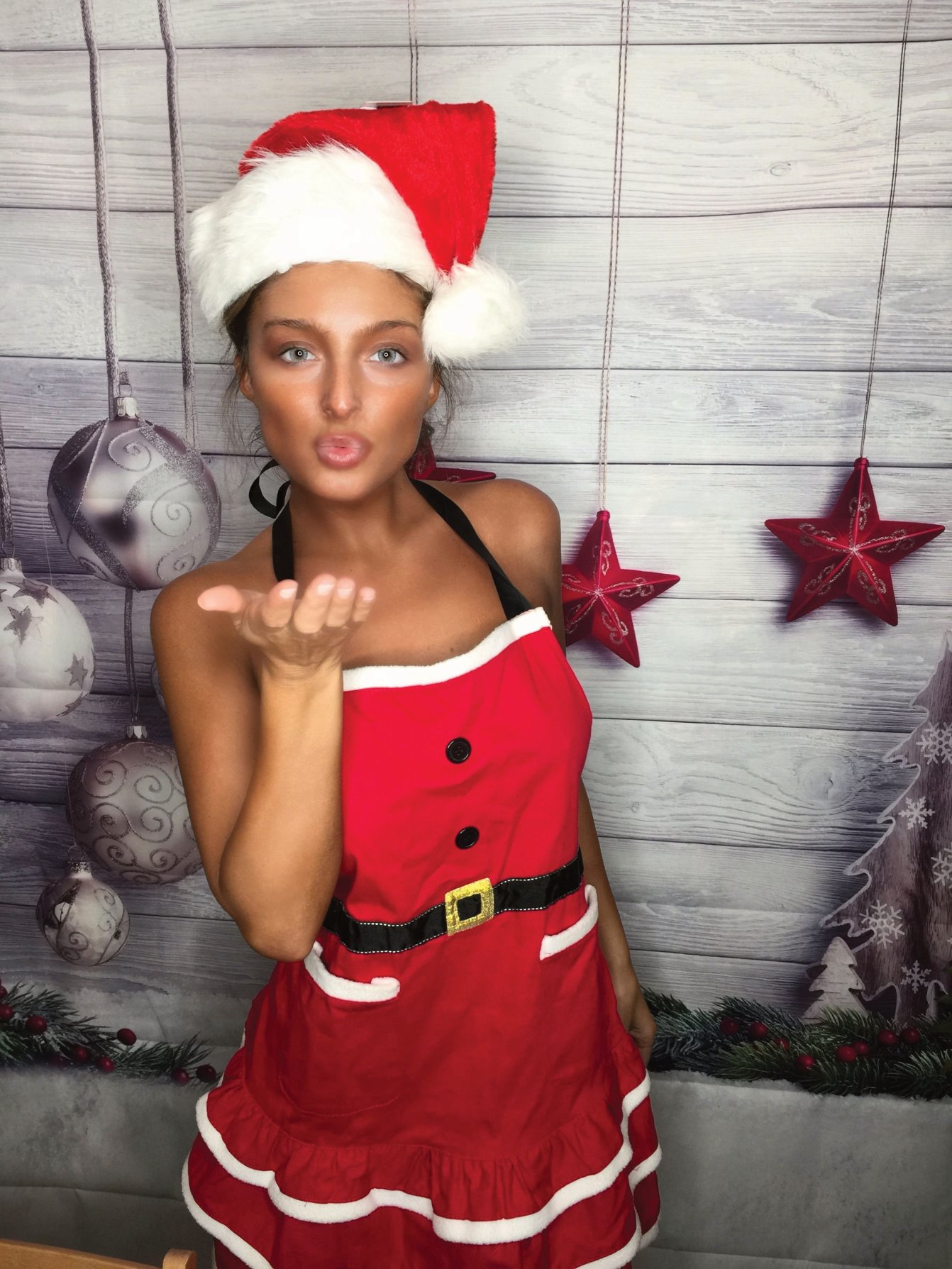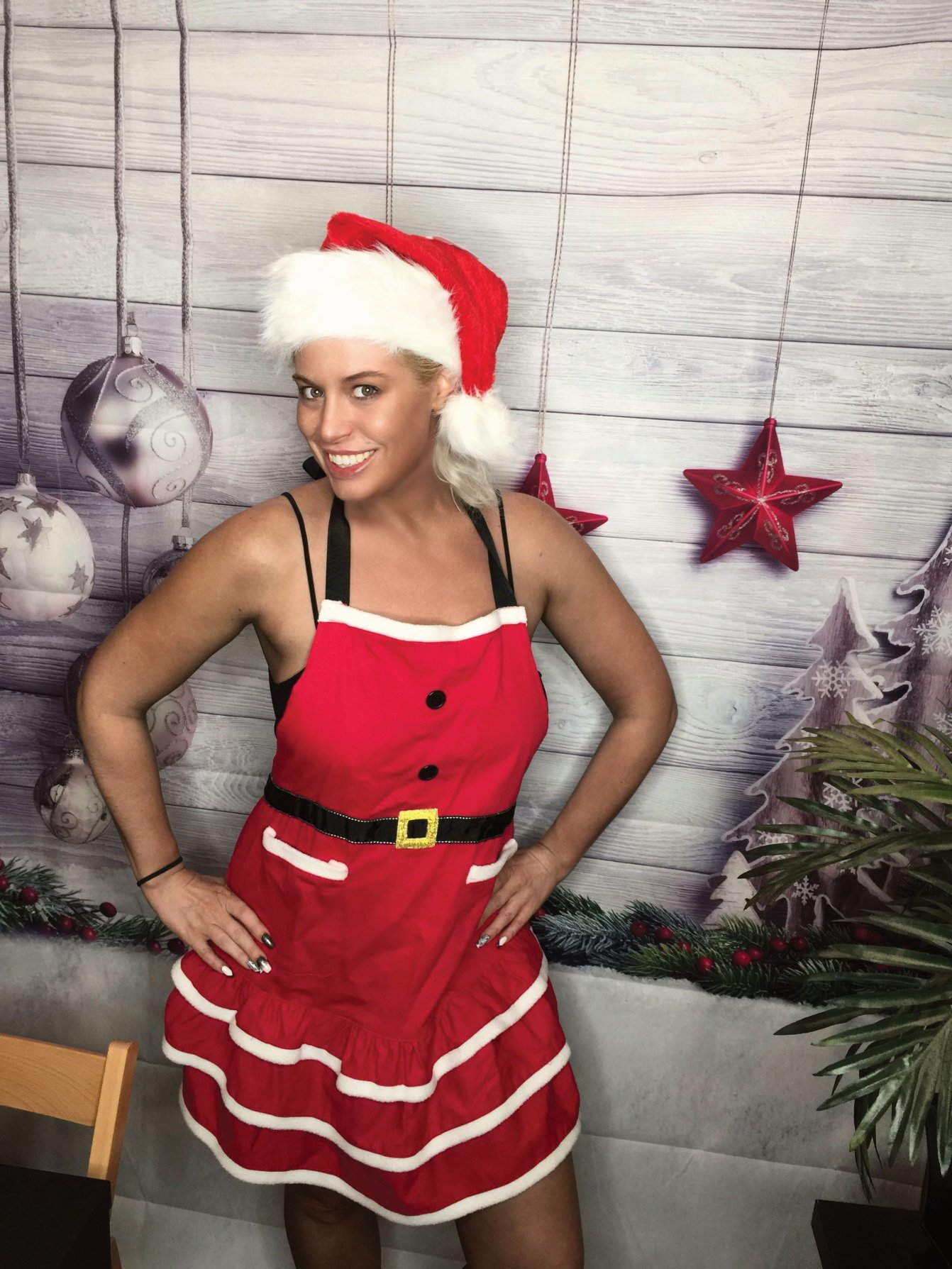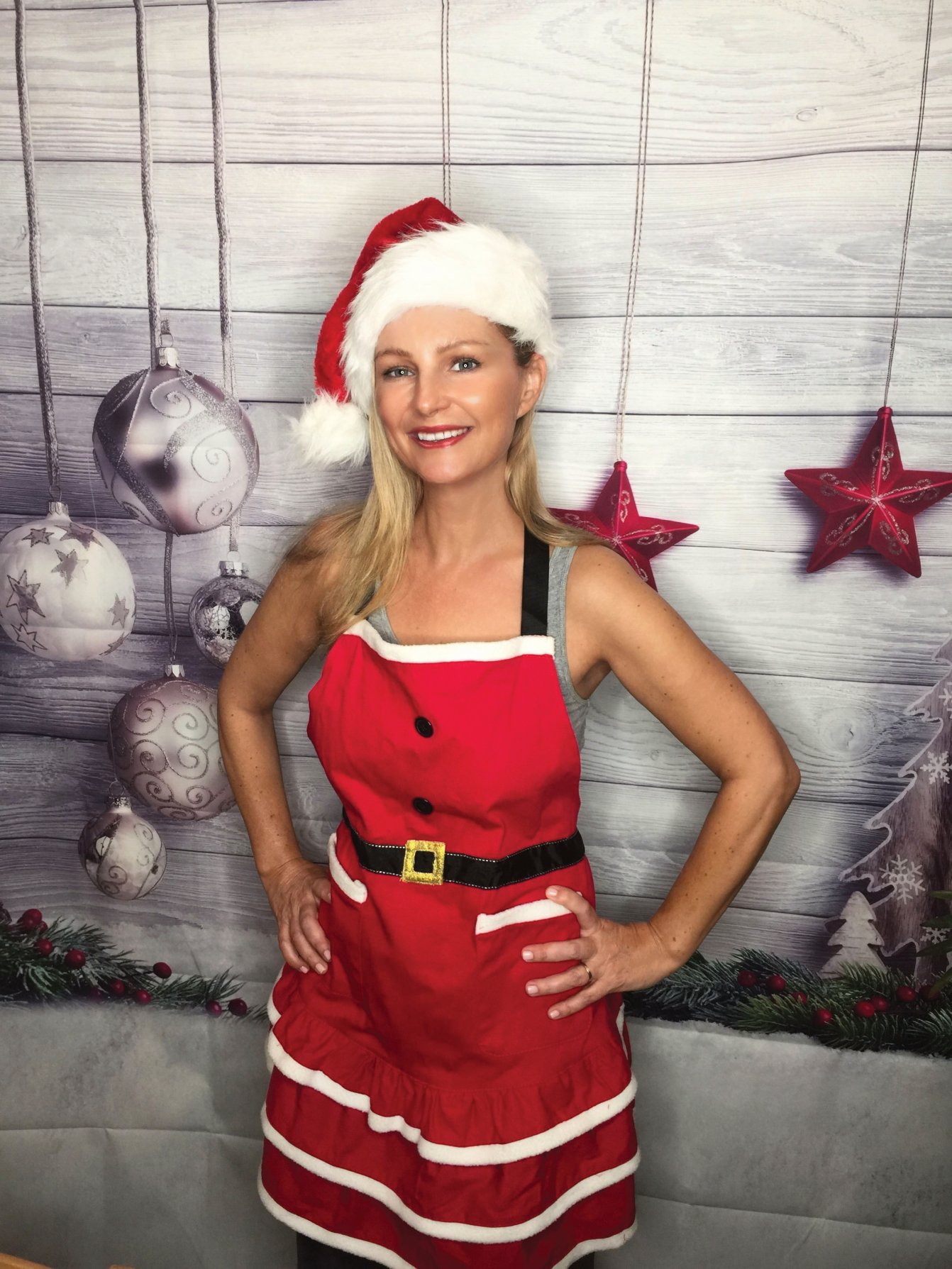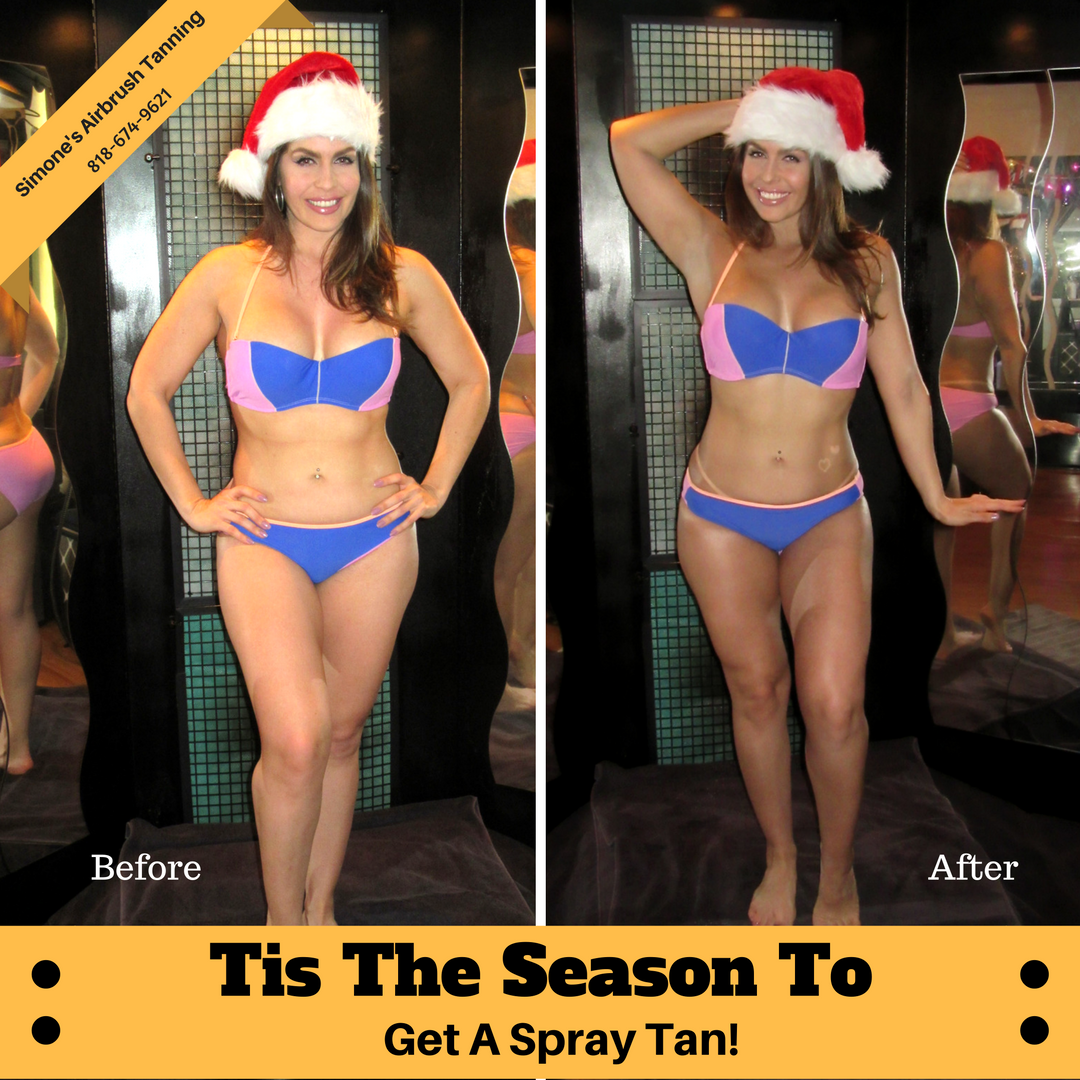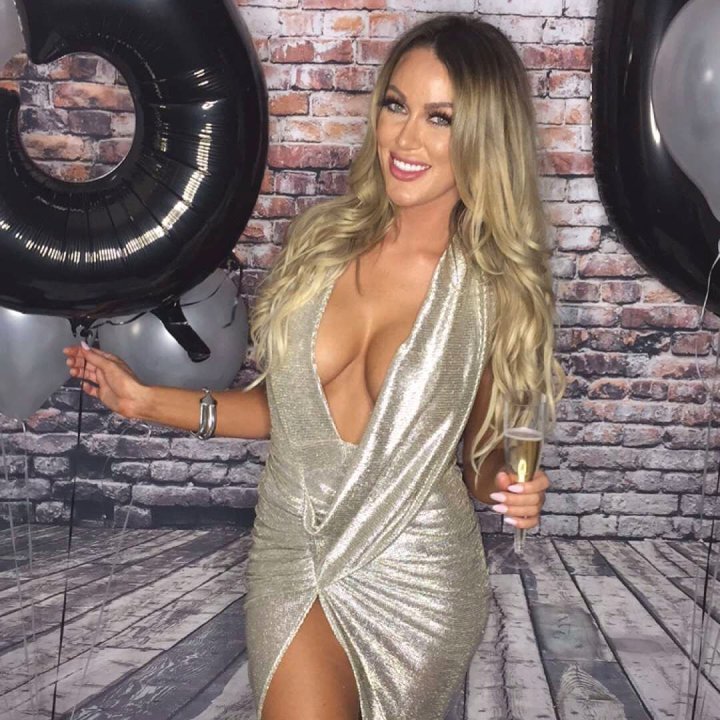 I recently went to one of my clients' birthday party and I took this amazing picture of her with the spray tan I did for her birthday event....and I just had to share it here.
This is Angela and she is very pale and in order to get her this nice color, I spray tanned her 2 days in a row in order for it to look this dark and last a bit longer.  When people are very fair, we can not achieve a dark tan with just one spray tan so this is why we may have to spray 2 days in a row (just like with bodybuilder spray tans).
She was very happy and as you can see she looked very stunning.
Feel free to call or text me at (818) 674-9621 so I can also give you a spray tan for your birthday.  I know you will feel great and it will increase your confidence and give you such a nice happy feeling...just what you need for your birthday :-)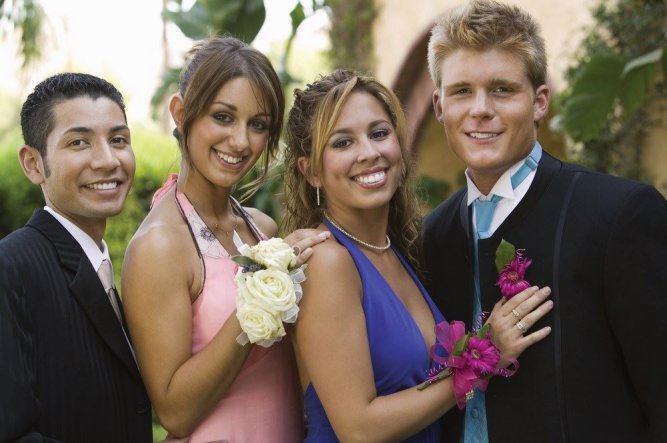 Prom season is here and this year I wanted to share some tips for those individuals who may want consider getting a spray tan for prom night:
Get a trial on a spray tan at least 1-2 month before the your actual prom night – that way you can see how you look and feel and buy the appropriate dress color to fit with your tan. Everyone's skin color is different so you will want to test it out. You will not need to get a base tan using tanning beds. A professionally trained airbrush tanner can get you dark with just one spray tanning session.
If you are not coming to me for a spray tan, ask to see real pictures of spray tans that your spray tanner has done and evaluate if this spray tanner has enough experience to tan you. Stay away from cheap spray tans because those specials are usually done by inexperienced spray tanners or newbees or people who have never been properly trained or certified. Pictures can provide proof of the actual hands-on experience. To see my pictures you can click hereto review my Instagram profile
Look for online reviews or ask for client testimonials - you can see mine by clicking here
If you are under 16, you will need to have your parent or legal guardian come and sign a waiver form allowing you to spray tan. They must come in person to sign.
During prom season, make sure that you book your hair dresser, makeup artist or spray tanner several weeks in advance because this is usually the busiest season for beauty industry professionals.
Sign up for your favorite place's mailing list or follow them on Instagram. Some beauty industry professionals or clothing retailers offer discounts when you sign up for their mailing list or follow them. That way you can get announcements of special deals
For Prom night I recommend organizing a designated driver or use Uber, Taxi or Limousine service company to drive you to prom. Stay away from texting and driving. A recent study of teen drivers from the AAA Foundation for Traffic Safety found that distraction was a factor in nearly 6 out of 10 moderate-to-severe teen crashes, which is four times as many as official estimates based on police reports.
Here are a few tips on how to prepare for the spray tanning session:
Get your spray tan done 1 or 2 days before your prom night.  Tans should usually last 5-7 days and with proper maintenance they can even last up to 10 days.
Shower and shave before your spray tanning session. Wax at least 48 hours before spray tanning and shaving can be done a few hours before getting the spray tan. The spray tan should be the last beauty treatment you get. Nails, feet, hair should all be done before.
Exfoliate your body with a loofah or body brush to remove the dead skin cells. Pay special attention to the neck area and dry areas such as elbows knees and feet. If you don't exfoliate well on the neck, the tan can show up uneven in that area. 
Don't wear any deodorant before your spray tanning session. Some deodorants are water proof so pay special attention to this and wash under your arms with a lot of soap and water to make sure all deodorant is removed.
Come with loose fitting clothings and shoes to your spray tanning session. If you wear anything tight, tan lines will imprint into the tan. Do not wear any socks as the socks will absorb the tanning solution and make your feet look lighter and the socks pattern can also imprint onto your legs.
After your spray tanning session, make sure that you don't splash any water on you while the solution is developing for a minimum of 6-8 hours. After you wash off the solution, make sure you moisturize with a cream or lotion that absorbs quickly into your skin. Stay away from oily lotions as they can make the tan blotchy and tans will fade quicker. Make sure to moisturize daily so your tan can last longer and fade evenly. If you don't moisturize, your skin will dry out faster and skin cells will shed faster and your tan might not last as long. A spray tan can last 7-10 days with proper maintenance. 
If you
click here
you can read a bit more on how to maintain your tan for best results.  At this page you can also download a list of products to avoid.
For those of you who are considering using me as a spray tanner during prom season, I wanted to emphasize that I carry many different brands of spray tanning solution and I do a consultation with you first where we go over details such as your skin type and your likes and dislikes when it comes to coloring and ingredients.  One of my favorite spray tanning solution is actually a vegan solution that has no fragrance and no alcohol and conditions and hydrates your skin amazingly. The solution does not feel sticky and you will leave here feeling dry and it also has no bad smell.
Feel free to call or text me for an appointment at 818-674-9621.  I look forward to hearing from you and spray tanning you.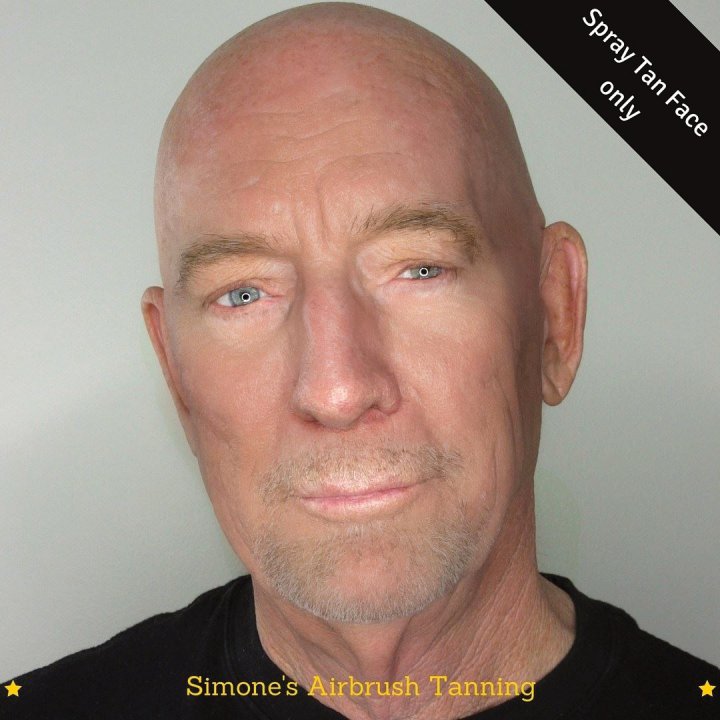 I wanted to showcase a long-term male client of mine who frequently comes to me for a spray tan.  Meet Tom, who is a successful screenwriter, director and producer here in Los Angeles.  He recently won first place in a screen writing contest organized by the Screenwriters Network. You can see more about his work by
clicking here to see his recent screenwriting work
- made into a play.  
Tom came to me a few years ago because he has fair skin and prefers to stay out of the sun.  He wanted to explore airbrush tanning as an alternative to tanning in the sun.  Of course he was worried about turning orange.  He came by for a little spritzer...that's what he calls it because I only spray his face and arms.  He was instantly hooked and could not believe how real a spray tan can look.  He also shared with me that it made him feel confident.  Now, whenever he goes to an important meeting or event, he comes to me to get his spritzer (face and arms spray tan).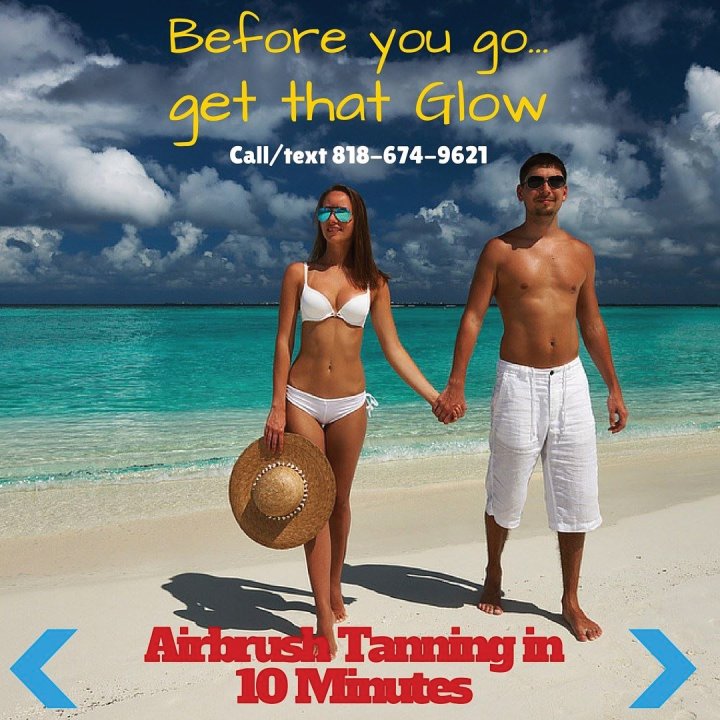 Just like Tom, I have many others who come for a spray tan but many of them do it for different reasons. One of the biggest reason is to do it right before going on a trip or vacation.  Many people don't like to sit outside in the sun and wait for their tan to come. Many woman also don't like to put on a bikini while being pale looking, they feel more confident when they have their tan already and it makes them instantly feel better in that bikini. Plus the fact that a spray tan can hide skin imperfections, and the best part is, that you can still go out into the sun and then the real tan will come in.  Many people don't even notice when their fake tan fades out.  While the fake tan fades out with each shower, the real sun will bring in the real tan. This is why getting a spray tan is so popular before going on a vacation.
I also have many clients who do
spray tanning for special events
such as a birthday party, Bachelorette party, prom, bridal parties or weddings, dance competitions or just going on a date.  It makes everyone look and feel better for that special event.  I feel that a spray tan is the ultimate happy maker :-)
I also have many clients who also do it for no reason at all.  They say it just makes them feel better and they want to have it every week or every other week.  Some of the model clients I have do it every week because they have frequent photo shoots and need to look their best at all times.  
I hope that more men will consider spray tanning to preserve their skin but also to prevent getting skin cancer.  According to the SkinCancer.org website, more men fall short in Skin Cancer knowledge and prevention -
click here to read their article
 and also some tips. 
Airbrush tanning is not just for woman or the younger generations or for models.  Any age generation can do this and look and feel better and preserve their skin and keep the skin healthy.  Remember that your skin is the largest and fastest growing organ in your body.  Our skin is our protective covering and our first barrier to fight illness and disease and a passageway to our bloodstream.   Airbrush tanning can help in preserving your skin and this is why I personally like to use solutions that are actually good for your skin with great anti-aging ingredients.   Airbrush tanning is hear to stay and I'm glad to be part of it.
If you are in Los Angeles, or specifically in the San Fernando Valley area, I welcome you to try my spray tans.  I know you will feel amazed by how real the tan can look and feel.  I have many different brands of solutions available to fit everyone's skin type and skin coloring. Feel free to call or text me at 818-674-9621 to make an appointment.  Feel free to also check out my profile and pictures on
Instagram.com/simonesairbrushtanning
Thank you for reading this and I hope to meet you in the near future.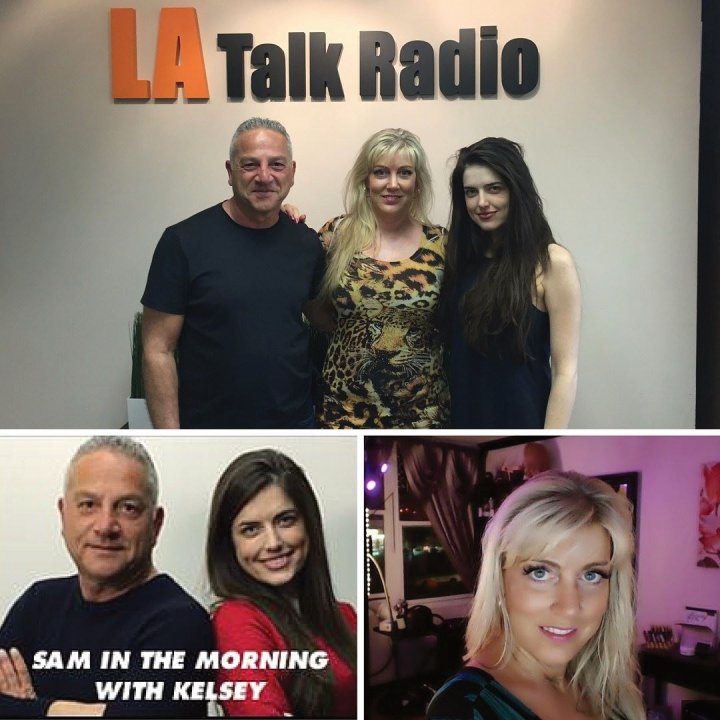 I had a radio interview recently at LA Talk Radio and wanted to showcase this here for anyone who wants to get to know me a little bit more and where I come from.  I was talking a little bit about my background, airbrush tanning and about my airbrush tanning training academy.  You can listen to it by
clicking here and read my blog post
.
I'm actually doing another follow up interview next week as I'm inviting the host Sam and Kelsey to get their first airbrush tan from me.  I'm so looking forward to their reaction.  I know a lot of people are always amazed by how real a fake tan can look.  I will post an update here soon and hopefully will have a lot of pictures to show.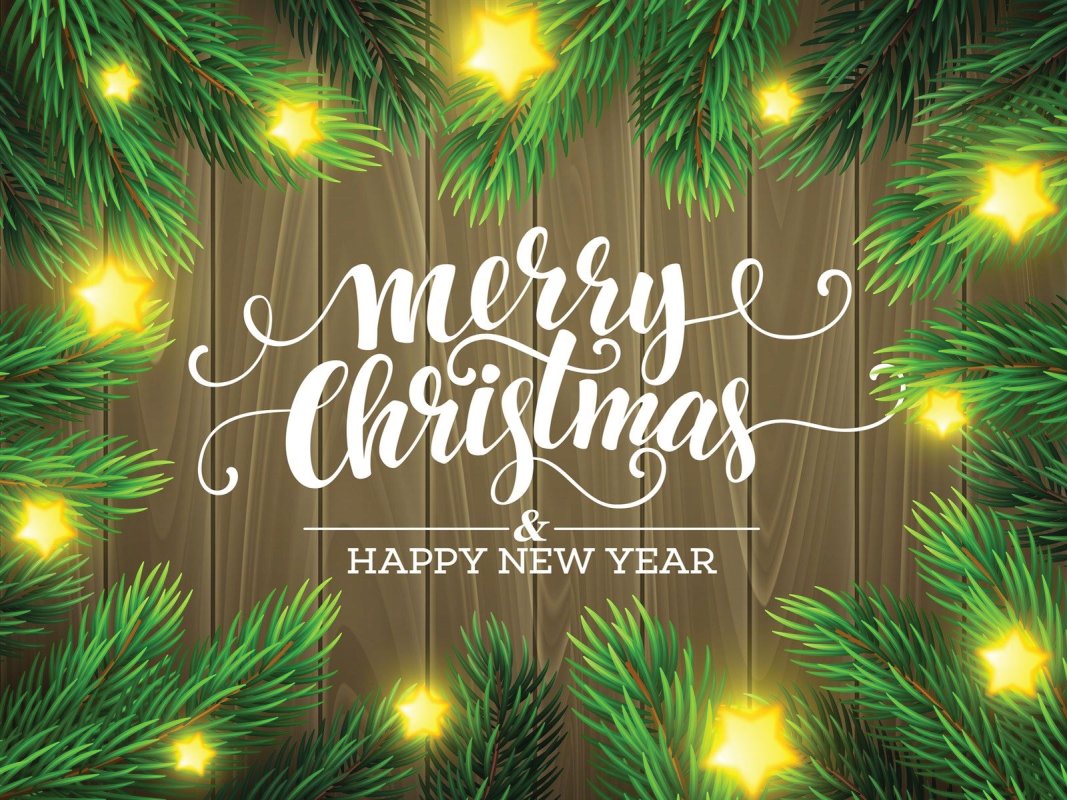 As this year comes to an end, I wanted to express my thankfulness for you visiting me and trusting me with your spray tan. I wish you and your family the happiest of holidays and prosperity throughout the New Year.
If you still need a quick pick-me-up holiday glow before Christmas or New Year, you can reach out to me by calling or texting me at 818-674-9621. I will be working very late today and tomorrow (December 23/24) to fit everyone in, so feel free to reach out to me even last minute.
Enjoy the holidays and I hope to see you again in the New Year.
Sincerely,
Simone
(818) 674-9621 cell
Located at: 12500 Riverside Drive, Studio City/Valley Village, CA 91607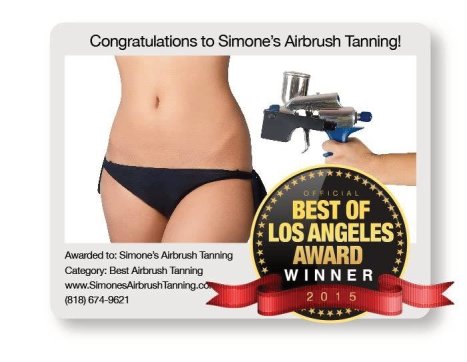 I'm excited to share today, that my airbrush tanning business has been selected and received the "Best of Los Angeles Award 2015" for Airbrush Tanning.  You might want to join the community as well which can be found by
clicking here
That's a great accomplishment to have received after all these years being in business. Yay!
There is also a video that you can watch by clicking on this image below: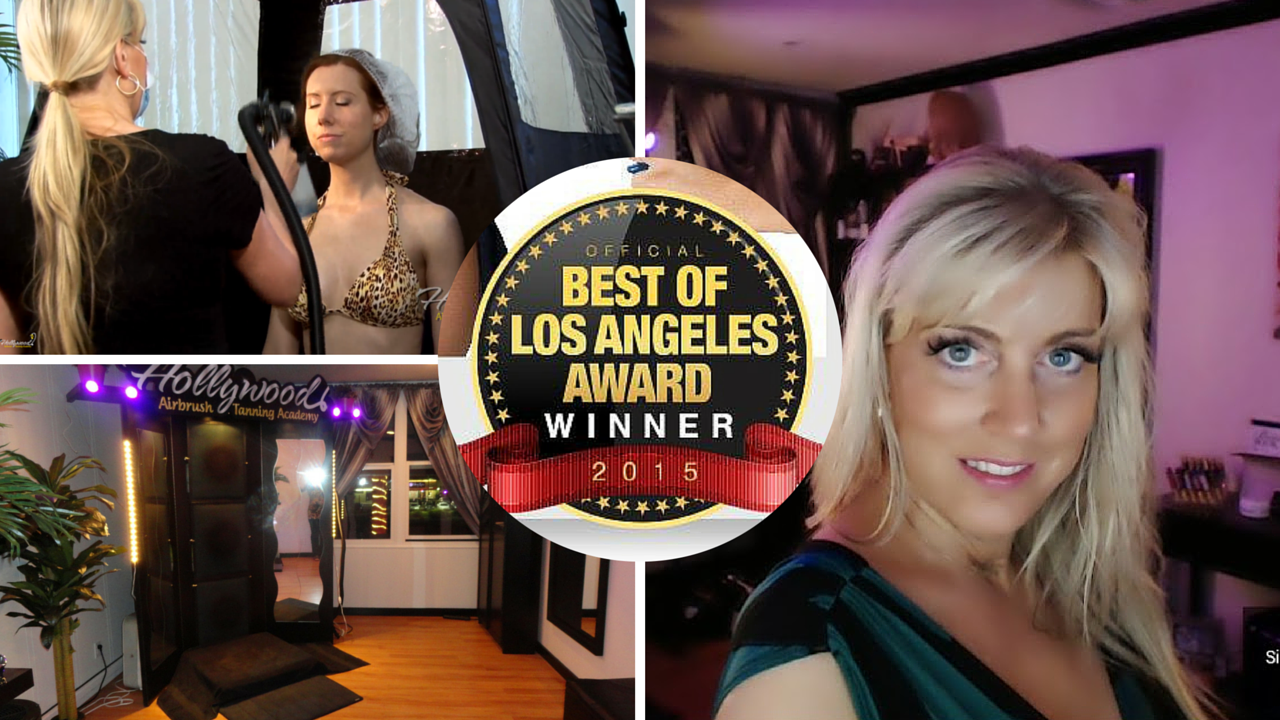 Here is my tip to men who need some ideas of how to show their appreciation to their wife:
Wife Appreciation Day is celebrated annually on the third Sunday in September. This year it's scheduled to be on Sunday, September 20th. 
This appreciation day was created to honor the women who, while they were married, did not have children and was a way to make up for Mother's Day since they did not qualify for the Mother's Day holiday.  One of the best ways to show your wife that you appreciate her is to surprise her and spoil her on that day.
I would recommend starting off by surprising her with a breakfast-in-bed, some beautiful flowers and just spoil her during the say by either ordering in a masseuse or even better by massaging her yourself, then spoiling her further by calling a mobile spray tanner to come to the house (hopefully you will call me) to give her a natural looking tan.  Spray tans are great because it gives them a tan within 10 minutes and woman feel more confident, skinnier and sexier after getting a spray tan.   In return, you will just have a more happier and confident wife.  
I hope this little tip helps and I hope you will call me to be the Mobile Spray Tanner.  You can call or text me at (818) 674-9621.
/